Attracting new patients is a necessity in order to grow and have a successful dental practice. Solo dental practices need 20 new patients per month (or more) in order to grow quickly.
Traditional dental marketing practices no longer work. Virtually all consumers now go online to find local services like dentists. 77% start their search for a healthcare provider at a search engine like Google. For patients who book appointments, 83% tapped into the providers website and 26% looked at consumer generated reviews.
It's clear the era of digital marketing for dentists are here, and consumers are in the drivers seat.
Take a look at some of the top dental marketing ideas that are attracting new patients. For a more holistic look at dental marketing, I encourage you to read and download The Ultimate Dental Marketing Guide: A Playbook for Growth.
Top Marketing Ideas for Dental Offices
We know traditional dental marketing strategies no longer work, but what does work? We work with dental offices of all sizes and have had the opportunity to test strategies and optimization techniques. What we've walked away with is a clear understanding of how modern patient behavior functions, and what patients are looking for when they seek a new dentist.
We'd like to share those strategies and techniques with you now. Most of these you can implement right away, although some will require ongoing effort.
If you need some help with your dental marketing strategy, feel free to reach out to us anytime. We love to meet new people.
1. Update and Optimize Your Google My Business Page
For leveraging a location based marketing strategy, nothing beats Google My Business. This is usually step one for any veteran SEO. If you don't have a Google My Business listing, you'll need to create one.
Google My Business is a free tool from Google that helps dentists (and all business owners) manage their online presence across the search engine. For dentists looking to attract new patients, Google My Business will pack quite a punch.
You are probably familiar with Google My Business listings even if the name doesn't instantly ring a bell. Features like Google's Local Search results (shown in the screenshot below) will break out a list of nearby dentists with most if the information a new patient would need to connect with your office (address, business hours, website, reviews, etc.) and potentially become your newest patient.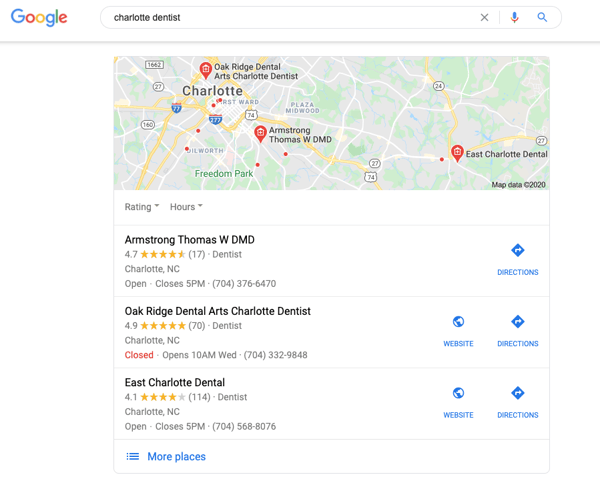 Once you've created a Google My Business Listing, a Google Maps location is generated and it will synch with Google Search. If you haven't claimed it yet, claim your Google My Business page now.
Around 90 percent of worldwide searches happen on Google. This value illustrates the importance of an optimized Google My Business listing.
To fully optimize your listing, completely fill out the following:
Business category (above, you can see that these offices are each labeled as a "dentist" right next to the average review rating.
Main phone number
Business description (optimize this description for SEO)
Business hours
Google Reviews
Want to learn more about Google My Business? In this blog, we reveal our secrets to success.
2. Upgrade Your Website Design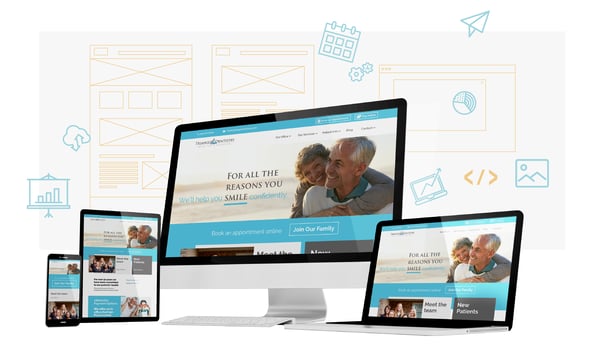 First impressions matter, and if your website looks like it came straight from 2002 then that's a big problem for attracting new patients. Patients don't wanted to be treated in a place that doesn't look nice. So a nice dental website design is no longer optional.
Beyond first impressions, patients will most likely interact with your website. So how your website functions is a direct reflection on how they perceive you will function. If your website is poorly designed and information is not easy to find, that's not a good start to your relationship.
Here are some ideas to upgrade your website and features to consider adding in order to attract more patients.
Online scheduling (Patients consistently report that their choice of a dentist is significantly impacted by how easily and quickly they can book an appointment.)
Online bill pay
Online prescription renewal
Instant messaging capabilities (Live Chat)
Profiles of each dentist
Videos, videos, and more videos
Content that helps, and informs your patients to keep their mouths healthy
When you put these features into your web design you will have made great progress towards improving your ability to attract new patients. But features and capabilities aren't the only things you need to do. You'll also need to work on some of the technical aspects of the site.
Website speed - Website visitors have zero patience. If a page loads slow they leave and they won't come back. An impression will have been made, and it's not a good one. You have three seconds for a page to load before they run for the back button.
Website security - Security is a no brainer in the healthcare space. If your website is not secure, you are exposing the practice to a major future headache.
Mobile friendly web design - 80 percent of new patients are searching on their smartphones when looking for a new healthcare facility. Mobile search web design is a must. When new patients run across a site not built for mobile, it instantly drives them away.
Coded for properly for SEO - The best dentist websites are coded properly for SEO value. These websites get found more easily because they have been set up for SEO properly.
Wordpress is a very common CMS for dentists, but as an open-source solution we have found it lacking in many of these important technical aspects. This is why we prefer to build dentist websites on the HubSpot CMS. HubSpot CMS can't be beat for safety, security and speed.
3. Start Blogging
Starting a blog will increase your presence on Google in a big way. Patients are actively searching online for answers to their questions. Patients have lots and lots of questions. This is actually one of the best places to start a blog for dentists is by answering patient questions.
With a well written and SEO optimized blog, patients can't help but find your practice. The wealth of free information you provide them will create a connection and perhaps a new patient for you.
Before you begin randomly blogging though you'll want to do proper research and develop your marketing strategy. This could be a good time to reach out to a marketing agency that specializes in dentists. An agency will have the expertise and experience to speed up content creation. If you don't want to work with an agency, you can also do-it-yourself, or work with a marketing coach.
However you decide to proceed, make sure the content you're creating is matched with search intent on Google. You'll want to answer questions that new patients are looking for answers.
Here are some dental blog topic ideas to get your brain moving:
Create healthy habits - Healthy living is work, and it's an "in" trend right now. Take advantage and write about healthy habits that support dental health. But don't limit yourself to just the mouth, focus on holistic health of the entire body.
Answer patient questions - The internet is full of people seeking answers to questions. Take them on and give them a solid answer from a respected professional. Chances are if one person is looking for it, many others are as well. This is a great blog type to add video!
Be trendy - There are always debates on the best this or that. Google for research on the latest dental trends and add your thoughts.
Facebook Ads
Your blog content is going to be a great resource for future Facebook Ads. In fact, Facebook Ads for dentists is one of the most affordable ways to reach a large audience of potential new patients. When you promote your blog content as an ad, you are displaying your expertise in the industry and also your ability to create a holistic, healthy partnership with patients.
4. Optimize Your Blog and Website Pages for SEO
If you've not spent much time working on the back end of a website, SEO can feel a bit like voodoo. SEO, or search engine optimization, is the process of editing your websites code and content so the search engines can read it better. An SEO optimized website will show up higher in the search results and generate far more new patient leads than a website that is not optimized.
SEO is complicated because the Google algorithm is complex. This complex algorithm makes them very good at reading websites and creating search listings.
How does Google read your website?
Google uses spiders to crawl your website data. They look at your pages and they look for indicators of importance. For example keywords and keyword emphasis are a big factor for Google but there are countless more. The exact recipe Google uses is top-secret, and has never been revealed.
There are a few things we do know about it though, and how to optimize for it.
Your website needs to be fast. Under three seconds fast.
Your website needs to be mobile friendly.
Your website needs to be secure. You must use HTTPS and not HTTP.
Your website images must have alt-text tags
You should use schema on every website page
Your website must be expansive with hundreds of pages of quality content
You must be present on social media
Your website must get backlinks from authoritative websites
6. Go All-In on Video Marketing
There is one fact above all others that you need to know to attract new patients - Video rules. Consumers can't get enough video online. Thousands of hours are watched every day of dentists sharing their story, and if you are not creating videos you are missing out on the opportunity.
A video is 50 times more likely to rank higher in organic search than a web page.
Here are some ways you can leverage video for your dental office:
Welcome to the website videos: Create a video that welcomes a new visitor to your website. You can introduce the facility and the team and start to build a relationship right away. Use the video to let them see your human side.
Physician profile videos: Let new patients build confidence in the dentists by sharing a their profile in video form. Patients will gain confidence in the dentist and their abilities, and the video will build trust in the staff.
Patient review videos: Before your patients walk out the door, give them a chance to leave a video review. Video reviews are easy to watch for prospective patients, create a more nuanced view of the practice than a simple written review.
Procedure and treatment videos: Walk a viewer through what an actual procedure could look like. What does the room look like? Who is the team? What happens during the procedure. Show off your expertise.
Educational videos: Take your blog content and turn them into videos. Educational videos perform exceptionally well in search and patients will appreciate the long form content.
7. Ask Your Patients for Reviews
Reviews are the backbone of every local SEO strategy. Reviews are that important. You must get reviews regularly and consistently. 72% of patients will look at reviews first when searching for a new doctor. Many patients would go out of network for a dentist with great reviews.
The most important place to get reviews is on Google. You can never have enough reviews on Google. I wouldn't recommend getting reviews in any other place until you have at least 20 Google reviews for a small office or 100+ for a larger office.
One of the biggest mistakes dentists make is getting reviews from patients but recording them in your patient management software portal. Reviews recorded here will not perform anywhere close to the level that you'll see when you gather reviews in Google.
Once you gather a healthy portion of Google reviews, start working on Facebook reviews next.
Tips for getting patient reviews
Get them to record a quick video testimonial at the end of their appointment
Ask them to leave you a Google review (send them the link)
Email them and ask them
Ask them on Facebook (Instant Messenger)
8. Connect With Patients Using Email Marketing
Checking email is the first thing the majority of us do in the morning. You can use email marketing for lots of things:
Appointment reminders
Teeth tips to stay healthy
Motivational tips
Ask them for a review
Community news
Updates on your practice
Team and staff updates
Putting Dental Marketing Ideas Into Action
We've given you a lot of great information on how to market your dental practice and grow. Executing on a digital marketing strategy isn't easy. It takes knowledge, timing, luck, and consistency. Many dentists make the mistake of trying it for a month and then giving up because they don't see the right results.
The mistake that is easy to make is not understanding the time commitment and expertise required to perform at a very high level in digital marketing.
If you don't have a significant amount of time to dedicate to your marketing, you'll need to designate some to do it for you or hire a professional dental marketing firm.
The best dental marketing companies will be able to take the pressure off of marketing, and make it fun for the entire team. After all, they didn't teach digital marketing in dental school.