People searching for a local business online are generally in a hurry, and are looking to take a decisive action quickly. That action could be calling you, visiting your website, or getting Google Maps directions sent to their phone.
Just recently I was trying to register my car at DMV, but I needed to get a vehicle inspection done first. I'd already taken the afternoon off to get this done, so I needed a place that would do an inspection now.
First thing I did was go to Google on my mobile device and searched "vehicle inspections". Google asked permission to see my location, and of course I accepted.
Instead of the usual ads, or search engine results - Google showed me a map with a listing of auto repair shops that were near me.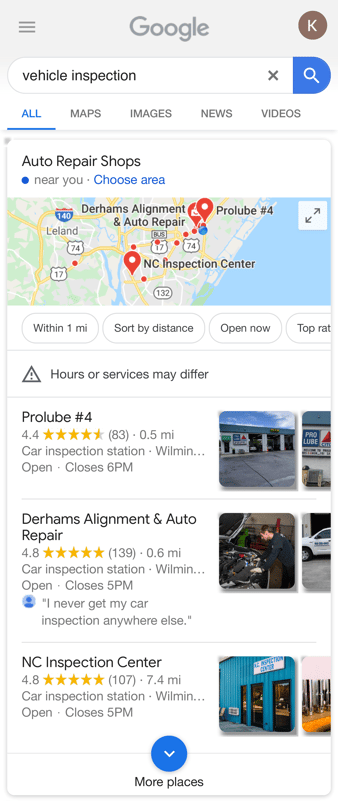 These map listings all happen because of a business's Google My Business profile. Chances are, your business has a GMB profile already, even if you haven't claimed ownership of it.
It is a critical tool for local businesses wanting to rank in local searches.
If you haven't claimed a Google My Business profile, optimized the business profile, or don't have key features enabled, you're missing out. Here's how to setup a profile.
The average business is found over 1000 times per month
Bright Local released a research report in 2019 that shared some amazing insights into Google My Business listings. They looked at 45,000 GMB profiles across 36 industries. Here's a few highlights of what they found:
On average, a business is found in 1,009 searches per month. That's roughly 33 times a day.
Of those searches, 84% are discovery searches, which are queries for a business category rather than the specific name of a business.
The majority (75%) of searches for local businesses are done on Search, with the remaining 25% on Google Maps.
Between Q4 2017 and Q4 2018, direct searches grew by 38%, while website clicks from GMB listings grew 29%
The Average Google My Business Conversion Rate is 5%
That's 59 actions (website visits, direction requests, and calls — per month) on average every month for a typical Google My Business listing.
Google My Business: The Secrets to Success
It's obvious based on those results to see that a Google My Business listing can have a positive impact on your business. How much of an impact for your business will depend on how well you've optimized your listing.
We've studied the research, and the results and have identified The 5 Secrets of Successful Google My Business Profiles.
1 - Load Lots of Photos and Videos
Internet culture is particularly visual. We curate images carefully of ourselves both personally and professionally. You need to take that same mindset to your GMB profile.
Google reports that, "Businesses with photos receive 42% more requests for driving directions to their location from users on Google, and 35% more clicks through to their websites than businesses that don't have photos."
Bright Local discovered that:
Google My Business listings have an average of 11 photos
Hotels have the most photos on GMB, with a median of 150 each
6% of Google My Business listings only have one photo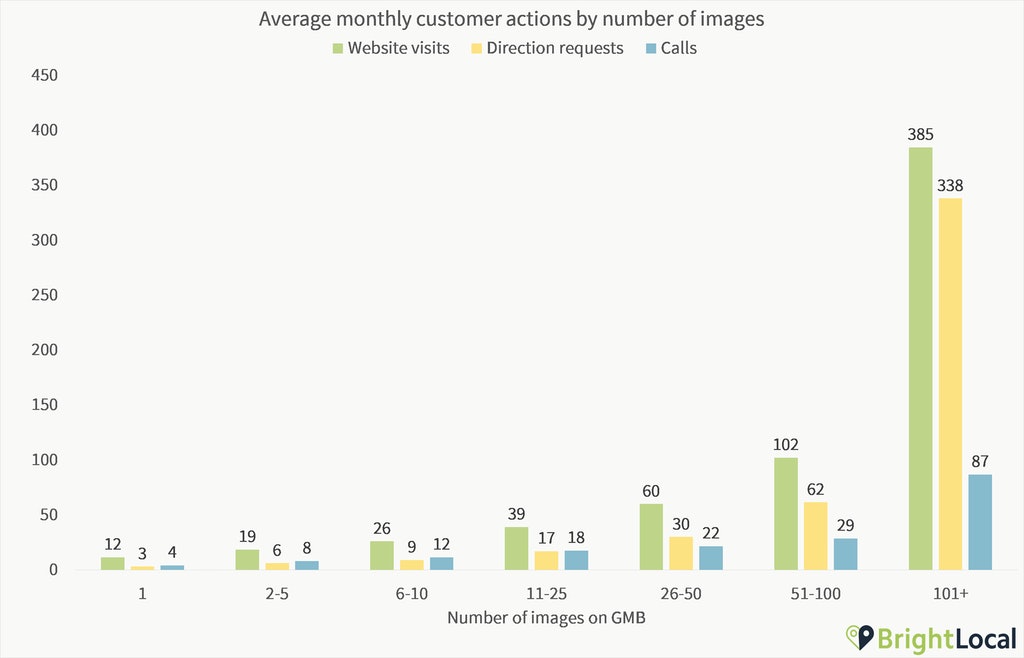 Businesses with more GMB photos get more clicks, calls and direction requests
People want to see what your business looks like before they step in. Google recommends having a cover photo that best represents your business, and other photos that highlight your staff and features of your business that customers will be interested in. Photos will help customers make purchase decisions.
Another tip from Google is to add an image of the exterior of your building so customers can find it easily.
Curate, and spring clean your photos on a regular basis and encourage customers to take photos and upload them to Google.
Bottom Line: More photos correlates positively to more views. More views correlates positively to more conversions
2. Allow Online Appointment Booking
If you had to book an appointment over the phone and were forced to wait on hold before you were able to do it, would you hang up and go somewhere else? According to recent GetApp research, your customers would.
Why is this a problem? Because 50 percent of respondents are still booking their doctor, dentist, and beauty appointments by phone.
Google My Business will allow customers viewing your Google listing to make an appointment directly through GMB. Simply link you existing scheduling service to GMB, and receive bookings directly.
Booking appointments online will reduce no-shows, and help patients remember their appointments.
The medical field has been slower than other industries to adopt online appointment scheduling, but it's the industry where people want that option most.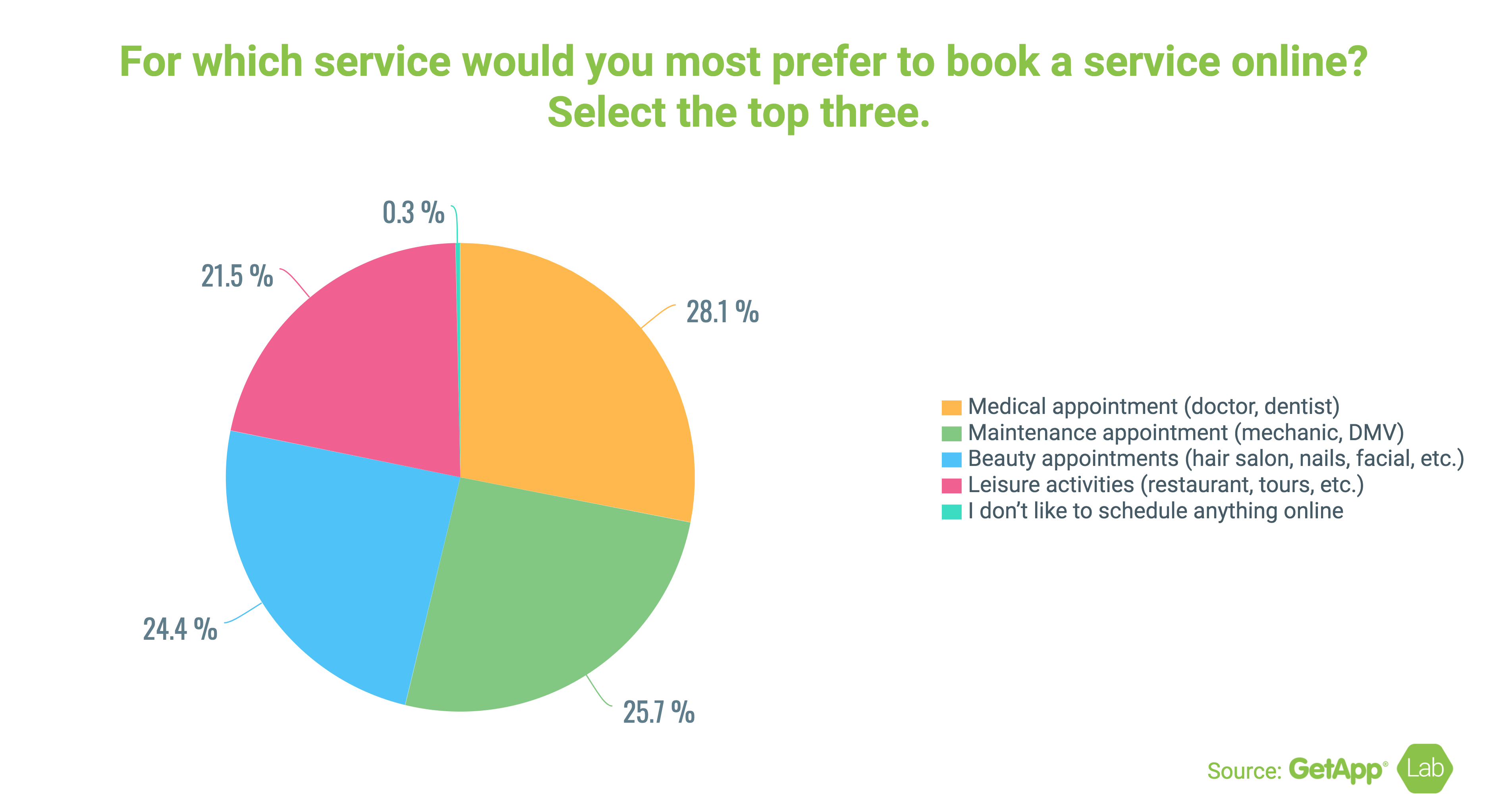 Many online booking systems for healthcare act more like digital booking "requests". Once a request for appointment is received it must be validated and confirmed before it is actually scheduled.
For dentists, orthodontists, and other healthcare providers the real competitive advantage is having a system that will schedule your appointment automatically. Self-scheduling is a differentiator.
How to Link Your Scheduler to Google My Business
You will need the login for the Google My Business page. This is not just any of the office google emails, it's a specific one. Also, if you are already logged in to google you will need to log out.
Only 1 office? Move on to step 3. More than one office? Start by choosing which location you are adding the link to.
On the left hand side choose "Info"
About half way down on the Info page you should see a field called "Appointment URL", paste the appropriate URL in this field
Click Save.
It will say pending above that section. It will take about 15 minutes to post (It can take as long as 24 hours)
3. Request Reviews
Google reviews are an important component to your GMB profile. Google values trustworthy businesses, and frequent and positive reviews are one way to assess who will show up at the top of Google local listings. Local SEO relies heavily on Google reviews.
When a customer leaves a review, it will be prominently displayed next to your Google My Business listing in Maps and Search.
Google is the website that patients are most likely to turn to for healthcare related reviews.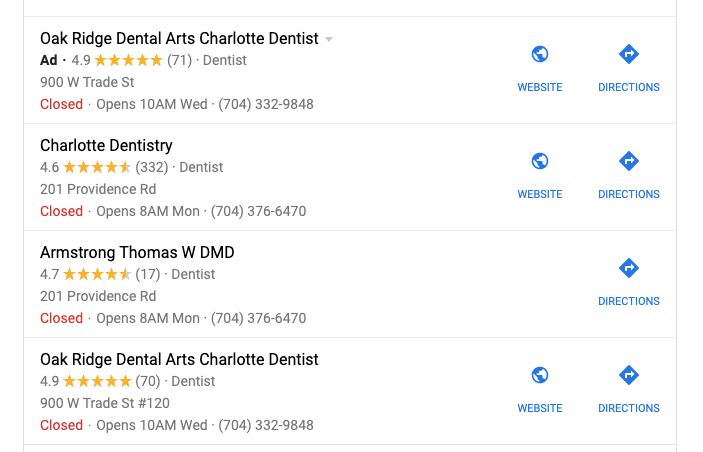 How Many Reviews Do You Need?
According to Bright Local, The average consumer expects a business to have 40 reviews before trusting its star rating.
Local businesses who rank in the top 3 positions in Google Local have an average of 47 Google Reviews
Businesses in positions 7-10 have an average of 38 reviews (9 fewer than those taking the top spots)
The average number of reviews across all industries is 39.
Dentists average 32 reviews in their GMB profile.
The medical industry averages 15 reviews.
Bars, restaurants, and hotels are the industries that are most likely to have Google Reviews
On average, 74% of local businesses have at least one Google Review
Accountants are the least likely industry to have reviews on Google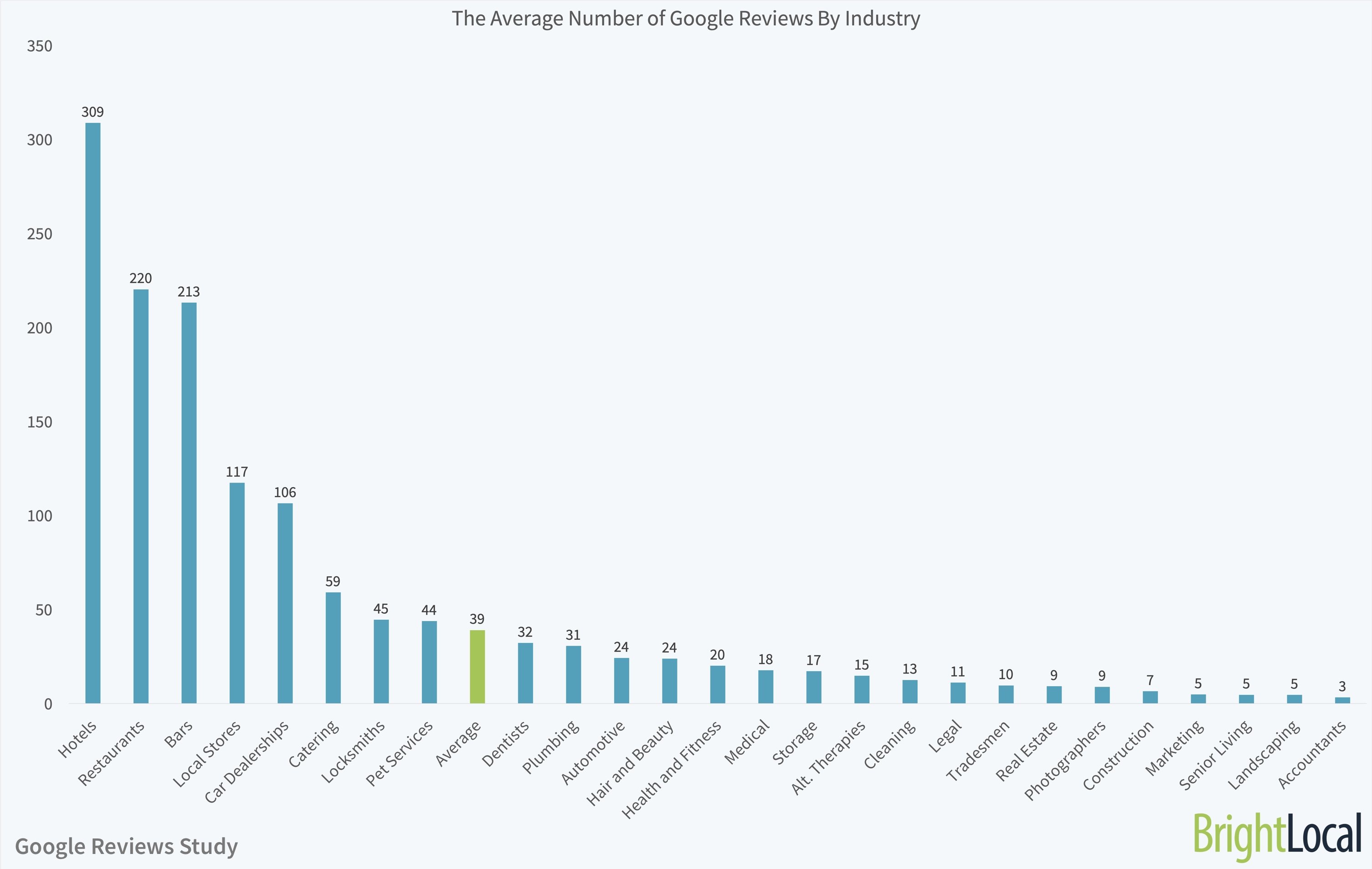 The more Google reviews a business has, the higher the possibilities are for them to rank at the top of Google. Reviews aren't a factor you can single out and test, because companies that are on top of their local SEO will have many reviews and be on top of their SEO game at the same time.
Bottom Line: Politely requesting satisfied patients to write reviews can seriously enhance your Google My Business profile.
4. Use Google Posts
Google processes about 3.5 billion searches per day globally. Many of those searches include "near me" to find local listings. Google Posts are an extension of your GMB profile and they give marketers a little more control over what readers see when they view your GMB listing.
Google Posts are a quick way to get actionable content in front of readers before they even visit or click through to your website. Awesome, right?
Google Posts actually extend your Knowledge Panel. The Knowledge Panel is the box that appears to the right of the search results after someone searches for information about your business. Here's an example from The Diamond Group: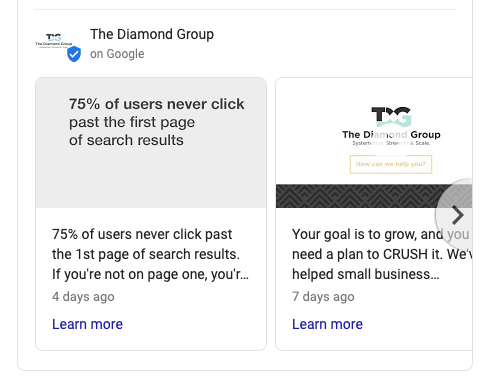 How Often Should You Post to Google My Business?
Posts only last for seven days, so you'll need to keep updating them. We have seen good results by posting once a week. Google tends to look favorably on businesses that use Google products frequently, so posting more than once a week could work well. Many businesses post once per day. Use the once a week guideline as a minimum.
5. Upload Videos
There is no better way to connect with your target audience than video. Video is powerful, and is now considered a "must-do" for marketers.
The marketing videos you create, you will be able to share on Google My Business.
Upload your videos as posts
When you upload your video as a post (instead of uploading it as a photo) you can knock off two tasks at once. First, you've made a Google Post (like I outlined in tip #4) and secondly, you've added video.
Google says videos are limited to 30 seconds in length, but we've seen longer videos load successfully. The limit seems to be on file size. Anything less than 100MB seems to work.
Uploaded video to a post goes straight to your knowledge card, and doesn't get buried in photos. Instantly you've got a video ready to go when a buyer searches for your business.
Get Help From a Google My Business Expert
Google My Business is the most powerful local SEO tool for small businesses. GMB can position your business in front of new customers and keep you one step ahead of the competition.
Looking for some custom help? Staying on top of GMB, not to mention the entire marketing strategy requires more than just a little effort. We'd love to help you to be successful. Contact us anytime. Let's grow better, together.