Dental Marketing Guide: A Playbook for Growth in 2020
Creating a Roadmap to Dental Marketing Success:
One-third of dentists rank new patient acquisition for their practice as an important goal. Although over the last decade dentists' desires to attract new patients has not changed, the path patients take to research potential healthcare has. Digital media and the internet have become indispensable for patients to use on their journey to dental healthcare. Now more than ever, patients use the internet to research their healthcare before making the 'buying' decision. This means that in order to keep your existing patients, and to acquire new ones, you will need a dental marketing strategy in 2020 that can keep up with your patient's digital behaviors because...
Patients are clearly in the drivers seat now.
Not only have patients become smarter internet users, but the tools available to patients are fully empowering them to make high quality healthcare choices. The latest research from Google shows that 77% of prospective patients do their research online with search engines, 76% of prospective patients do research on the providers website, and 52% are researching their health care options through general information health sites. Your patients are online, and you should be too.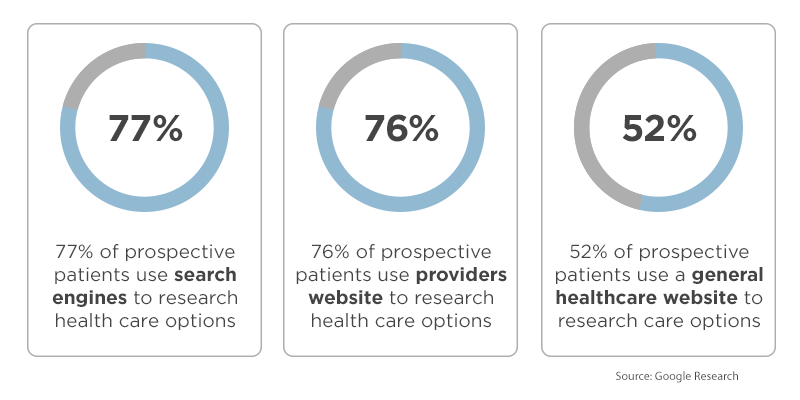 The digital competition to acquire dental patients is pretty fierce. The same Google research recognizes that 48% of prospective patients do two or more weeks or research before selecting their provider, and 61% visited two or more provider websites before converting into a lead. Using the internet and provider websites is no longer just for younger patients. According to Pew Research, 61% of Americans 65 and older have internet access, and social media usage for this age group has tripled since 2010.
For patients who book an appointment online, digital content is the critical link to conversion.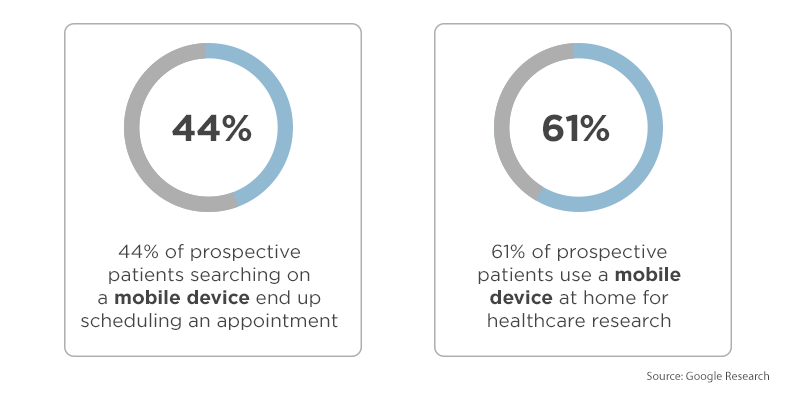 It is undeniable that prospective patients are going online to shop for a new dentist. They are using search engines and dental practice websites to determine if any given dental practice is a good fit for their dental needs. This is why it is important for dentists to rank on the first page of Google for the search terms most relevant to their practice. For dentists whose digital marketing strategies have not kept up with the times, this can be unattainable. If you are a dentist with outdated digital marketing strategies, you'll likely have a website that is poorly designed, minimal in content, or the kiss of death for dental practices - slow loading. Websites like these are doing something far worse for the practice than simply not generating leads, they turn away prospective patients potentially forever by offering an unappealing and outdated solution in their search for a new dentist.
Up Your Dental Digital Marketing Strategy
The Diamond Group Blog is our favorite spot where we regularly share our opinions about the practice of online marketing for dentists. We encourage you to subscribe to the blog to receive our regular updates that will keep you up to date on the latest trends in dental marketing. We also realize that many of you have come across The Dental Marketing Playbook for Growth because you have recognized an issue in the marketing of your dental practice, and you're searching for guidance. This is why we've created the ultimate guide for dental marketers, so that you can create the winning digital marketing strategy that your dental practice needs today.
We don't call this "The Playbook for Growth" for nothing. Dental marketing has many parts and pieces needed to create a successful marketing strategy. Looking at marketing for dentists comprehensively ensures that your marketing efforts are effective in growing your practice. By publishing this content, we are hoping to highlight the most effective methods to move the needle in your practice. Throughout the guide, we highlight research by other knowledgeable sources through links, and we encourage you to follow these links to gain a better contexual understanding of the information we're providing.
Dentists who partner with The Diamond Group will recognize many of the recommendations and research in the 2020 playbook. This is because we are a full service dental marketing company that truly practices what we preach.