Want to grow your dental practice? SEO for dentists will do the trick. In this post, we'll teach you what SEO is and how to implement a winning dental practice SEO strategy. The result? New patients that will find you organically and convert faster and easier than leads from traditional advertising
It used to be pretty easy for dentists to get new patients. They'd run an ad in the yellow pages, or maybe if they were really going out there in a local magazine. That was it. Run an ad, and wait for the phone to ring. (Of course the phone used to be attached to the wall, but that's an entirely different article)
Consumers have established a new reality, and dentists have been trying to catch up. In this new consumer driven world, it is the consumer that is in the drivers seat. 93% of online experiences begin with a search engine.
According to eMarketer, consumers spend about 12 hours a day consuming media. 50% of this time is spent with digital media.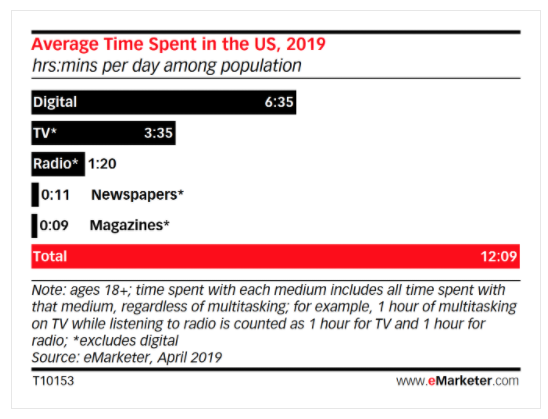 When they need to find a new dentist most consumers start that search with Google.
Referrals have long been a reliable source of leads for dentists, but even those have moved online. Review platforms like Google, and Facebook have revolutionized the way patients get referrals. . 94% of healthcare patients use online reviews to evaluate providers.
Dentists have been slowly moving to digital over the past decade, and that's created a lot of competition at the top of the search engine rankings. Local SEO has become incredibly important to dentists as they look to stand out in maps, featured snippets, reviews and image site links.
Why SEO Is One of the Best Strategies to Get New Patients for Dentists
Search Engine Optimization (SEO) is the process of building your website and your content in a certain way so that it will rank higher on search engines (like Google) for certain keywords. SEO for dentists is valuable because it places your practice in front of someone at the exact moment they're searching for your services. This is what makes SEO for dentists completely different than traditional advertising. Advertising interrupts (think of a TV commercial, or magazine ad), while SEO adds to value to the user and to the overall experience.
SEO leads have a 14.6% close rate compared to only 1.7% for outbound leads such as print advertisements.
How SEO Works
Here's how SEO works: Google (and other search engines) visit pages on web sites, categorizing and indexing them much like a library would categorize and index books. Although web sites contain millions more pages than any library. When you go to a search engine and type in your request, essentially you are asking the librarian to find you the best results for your query.
Google is much faster than any librarian could ever be. They use artificial intelligence and machine learning to decipher your search term and give out a result.
This is where SEO is invaluable for you. Google's web site crawlers read HTML computer code. So when their crawlers run across an image on your website, the crawler can't "see" the image. So SEO specialists tell Google what that image actually is using meta tags.
This is just one small example of how SEO work is valuable. No one knows exactly how many factors Google uses in its search engine algorithm, but those in the know say there are over 200 factors involved.
What we do have is proof that dentist SEO works, because we see the results in the data.
Dentist SEO Absolutely Works: Here's Proof
The Diamond Group is a dental marketing company that works with many wonderful dentists, and all have seen crazy good success after investing in dental SEO. For example, this client is a dentist in Raleigh, North Carolina. They have a single location with a team of dentists specializing in cosmetic and family dentistry.
3,107 new keywords ranking in Google
91 keywords ranking in Top 3 in Google
217 keywords ranking in Top 10 in Google

This local SEO campaign for a single office dentist produced dramatic results in just 12 months:
91% growth in website visitors in 6 months
702% growth in website visitors in 12 months
When we look at the most recent months data for the dentist, an astounding 91% of the dental practice website traffic is coming from Google search.

This is the power of dental SEO.
SEO is certainly the most reliable and profitable dental marketing tactic. But you should know that it is not a short term marketing strategy. As you can see in the example above it takes time for Google to catch on to your incredible content. Continuous content creation will act like a snowball rolling downhill. At the top of the hill it's not much to look at. At the bottom of the hill it's a monster.
Read about another dental practice that used dental SEO to completely transform the firm.
Dental SEO: 10 Steps to Get More Patients
Step 1: Pick The Right Dental Marketing Company
The foundation of SEO is keywords. When you pick the right keywords to target your chances of getting new patients go way up. It works the other way though. Pick the wrong keywords to target and you can spin your wheels going nowhere. It's a waste of time, energy, and budget. It might also leave you saying that dental SEO doesn't work. Of course, this is wrong. What didn't work was the SEO execution.
Keyword selection requires you to know a few variables for every keyword:
The search volume (how many searches) happen each month for the keyword
The difficulty of ranking for that keyword (how hard is it to get to page one)
The search intent of the keyword (what expectation to users have when they use that search phrase)
The audience (who are we targeting)
It can seem overwhelming. If you're not a detail oriented person you might get overwhelmed. It's definitely not a job you can do in the cracks of your day. It will take some focused effort and energy.
At The Diamond Group, we use proprietary software to gather keyword information. It's fast, accurate and updates daily. The software also allows us to track keywords to our dentists websites. This way we can always see how our content is performing, and if we need to make tweaks to our strategy. The right software keeps us on point. It also provides specific URL based information and facts so we can make better (more informed) decisions at every step.
When you look at the data, you can identify keywords that might seem promising but in fact are going to be extremely difficult to rank on page one for. An example is the keyword "teeth whitening".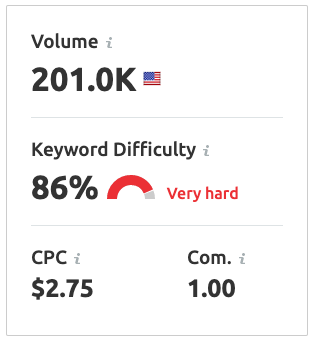 For search volume, this keyword is awesome! 201,000 searches per month. Amazing!! The trouble lies just beneath the surface here. A keyword difficulty of 86% makes "teeth whitening" a very difficult keyword to rank for. Most dentists simply won't have the domain authority to ever rank for this term. A little research might have just saved us a year of content that would've gone absolutely nowhere.
Step 2: Check Out The Other Dentists and See How You Compare
Now that you've got your keyword list ready, you need to discover how you're currently performing in search engines compared to your competitors. There are over 200 factors that will affect a page rankings, but you don't need to compare them all. Here are nine of the most important SEO factors to investigate:
Is the website secure (does it have a lock in the search bar)?
Is the website mobile friendly?
Is the website fast or slow?
What is the quality of the web pages? (good, bad, meh)
Are the web pages short or long?
Is website content being shared on social media?
Do the web pages have backlinks?
Are the images of the website optimized for SEO?
Does the website use schema markup?
You can stick all of these questions in a spreadsheet, and list how yourself and your top competitors answer the questions. Take a look at how you compare. You'll probably find that you're performing really well in some areas, and not so well in others. How you stack up is great data, and it will help you better understand the starting line. Hopefully another dentist in your market hasn't gotten a big head start.
Step 3: Improve Your Technical SEO
Now that you've completed your technical analysis on your site, you probably realize there are a few things you need to work on. Technical SEO is something most marketing managers would prefer to skip, but you do so at your own peril. Your site will almost certainly never rank well in Google if there are technical SEO issues.
Here is a quick list of technical items to work on:
Security - There is a cyber attack every 39 seconds - Over 2,200 times per day. Many of these attacks target small businesses.

Data breaches exposed 4.1 billion records in the first half of 2019. Add to that, Google will warn users when they are about to enter an unsecure (without https) website.

Speed - Three seconds or less is the Google gold standard for speed. If your website takes longer than that to load you are losing patients. Test your website speed using Google's speed test tool.
Mobile - Over 50% of searches are happening on mobile. The average US adult spent 2 hours, 55 minutes on a smartphone in 2019, a 9-minute increase from 2018. In our experience, over 75% of searches involving a dentist happen on a mobile device.
Schema Markup - Essential for local SEO, schema markup is a type of HTML that allows you to speak directly to the Google bots and tell them specifically what your page is about. Schema boosts the chances of ranking higher and lessening Google penalties. Dentist should be using Schema markup.
You'll notice none of the items above mention how pretty your website design is. Web design for dentists is important, no doubt but a pretty web design with a weak technical foundation will never reach your goals.
Make sure that any dental marketing agency you retain understands technical SEO.

Step 4: Optimize Your Web Pages for Search Engines
Most dental marketers want this to be step #1. Jump right in and start optimizing! You've been smart and have done the keyword research, and fixed the technical errors. Now you can work on web page optimization.
Make sure your page title and your meta descriptions align with your keyword selections. You can make these changes in Wordpress using an SEO plugin. In the HubSpot CMS you can make these changes in the "settings" tab on your page. Here's an example from HubSpot.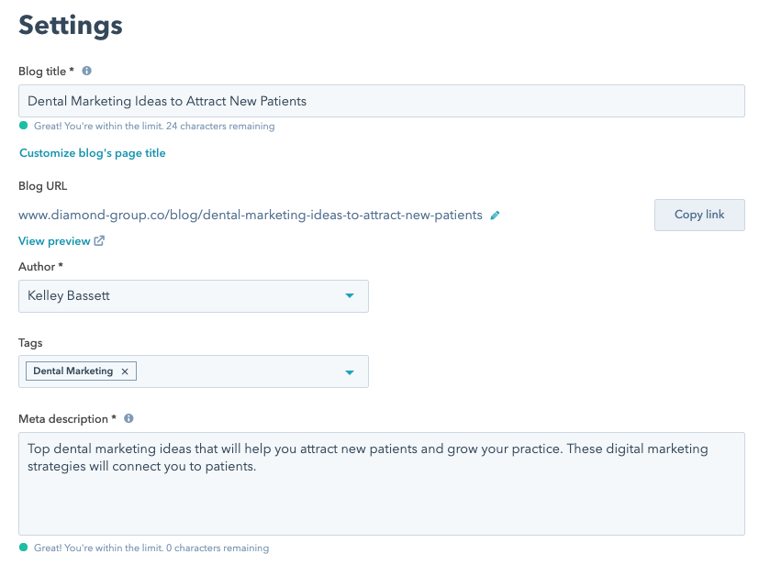 Look at the content on the web page itself. Does it answer the questions someone would have if they opened the page?
Make judicious use of your heading tags (H1, H2, H3). Heading tags help search engines figure out what is important on your page. Do not use heading tags to make text bolder, go ahead and use bold text for that. There should only be one H1 heading on a page. This is the most important text, and tells Google what your page is about. You can multiple H2, and H3 tags.
Your page title, your meta description and your schema will affect the way your content displays in Google search.
Do not keyword stuff content. Keyword stuffing is the act of using your keyword over and over trying to tell Google how important your keyword is to the article. This is the wrong way to tackle SEO. You'll want to "naturally" include keywords into your content.
A good place to look for adding content in your website is the "people also ask" section in Google. Does your content answer these questions? Great! You might get featured in a Google snippet.

Every page on your website should be optimized following this strategy:
Fix page titles, and meta descriptions to match keyword focus
Optimize the content
Add website schema
Answer additional questions to add value
Step 5: Optimize Your Local SEO
Local SEO is the process of getting your practice to the top of search in your market area. Local SEO builds upon traditional SEO (discussed above) but layers in an emphasis on Google Local Pack results. The Google local pack is the box of Google Maps results that you see just under the first section of paid ads and above the organic search results.
Google local pack results are pulled from the associated Google My Business account. This is why it's so important to optimize Google My Business for local SEO.
Tips to optimize your Google My Business Account
Google My Business is how you get your business listed in Google Maps and to get added to the local pack results. Google will use your GMB data to display your practice's most important info:
Name
Address
Phone Number
Office Hours
Average Reviews (rating)
Specials, Coupons, Google Posts
You'll want to verify all of this information is accurate and current in Google My Business. Pay particular attention to your phone number. The phone number on your website should match the number in your GMB listing. Google looks at name, address, and phone number (NAP) and rewards businesses whose information matches across all directories.
Once you have verified all of the information is correct, you can start optimizing your GMB listing.
Choose the appropriate business category (dentist)
Write a 200-300 keyword rich description of your practice
Link to your website
Connect your social media profiles
Add photos. The more the better. Google loves photos!
Work on getting reviews
Reviews are a big part of optimizing for local SEO. Consumers trust online reviews as much as they trust a review from a friend (perhaps even more). Having a negative reputation online (or no reputation) may deter new patients from connecting with your dental practice. The more reviews you can get the better. Avoid the most common mistake with reviews, getting them in the wrong place. Reviews that are put into a proprietary platform like SolutionReach or RevenueWell will not help with local SEO.
Step 6: Build Out Your Web Site
You've made it through the first five steps and have accomplished so much - but there's still more to do! It's time to really ramp up your SEO efforts. Look through your website and make sure that you have created a web page for every service that you provide. When you think you've got them all, take a look at your competitors. See anything missing? Add it in.
Authority building pages shouldn't be overlooked. FAQs, About Us, News etc. Your FAQ pages will be SEO gold and will help your future patients get to know you better and understand the ins and outs of your dental practice.
People are full of questions. The more questions you can answer on your website the better. Don't forget to add graphics and video. Video is the easiest way for consumers to get to know you.
Step 7: Build SEO Friendly Content
You need a blog. It's that simple. Blogs are SEO gold. You don't have to blog every day, and it doesn't have to be a massive commitment but you have to blog. Period.
Reasons to start that blog:
Blogging will increase your chances of ranking in search engines.
Blogs will build domain authority
Blogs are helpful for new patients and prospective patients
Blogs build trust
The better content you create, the better your website will rank, and the more new patients you'll get.
Google rewards content by giving you great rankings in the search engine. So what does Google think is great content? Great question.
Blogs over 2,000 words
Blogs with images and graphics
Blogs with video
Blogs that are easy to read
Blogs that are optimized for SEO
Blogs that other websites link to
Blogs that are shared on social media
Step 8: Build Back Links To Your Web Site
Google sees links to your content as a positive signal and a vote in favor of your content by users. The more links you can get to your website the better, and more authoritative Google will see your domain. The more authoritative Google views your site, the higher you will rank.
Building back links is not easy, and it's not something that happens by itself. It takes work. It takes outreach. It takes time. You'll build your back links one at a time, slowly but surely.
Great ways to get backlinks:
Get interviewed
Write content for other publications
Collaborate with other bloggers and journalists
Promote your content on social media
Link your content together using a pillar content marketing strategy
Create infographics
Create video
Claim all of your local listings in online directories (great for local SEO)
Gather Data, Analyze and Tweak
You have done a lot of work to get here. No doubt this has taken considerable time and energy on your part. Unfortunately you're not done. You've just begun. Now the work begins of gathering data, analyzing the results, and making tweaks. This is a continual process and it will never end. Track - Test - Tweak - Repeat.
Need Help with Dental SEO? We're ready.
Not gonna lie, we have covered a lot of info in this article. Do dentists need SEO? Yes they do if they want to grow and attract new patients. If some of this information was overwhelming, that's ok. We didn't become dental seo experts overnight.
Looking for more detailed info on dental marketing? Download our dental marketing playbook for growth.
If you need a helping hand, or a team to guide you through the process we're ready to help. The Diamond Group can help cut through chaos and get right to the solution. We like to say we can help you "avoid paying the dumb tax". Just reach out to the team anytime, and we'll be happy to help. Thanks for reading all the way to the end!