Google Local Packs are prime real estate when it comes to being seen by a wide audience on the front page of search engine results pages (SERPs). Click-Through-Rates (CTRs) and conversions from casually browsing consumers to paying customers increase exponentially when you're listed as one of the Elite Three in a Local Pack. Of course, if it was easy to get placed in that magic box, it wouldn't be so special, right?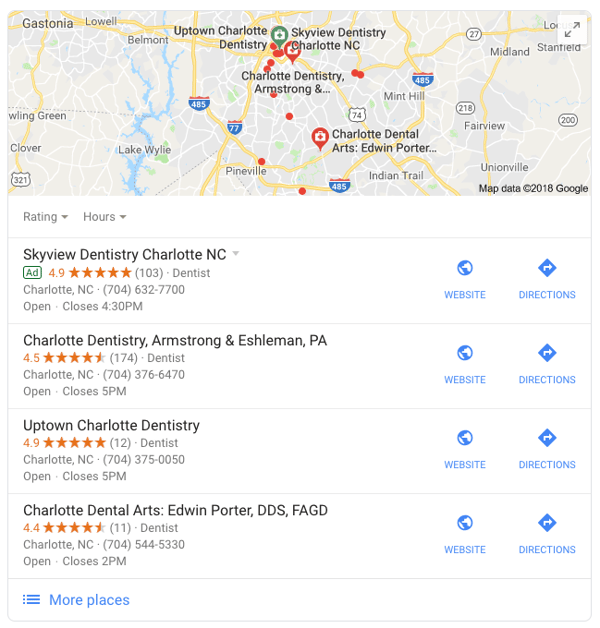 No reputable SEO company will tell you it's easy to find your way into Google's Local Pack, but it certainly can be done. After all, companies are featured in that special square every single time someone searches for something. So, what's the secret to unlocking the key that drives hyper-local traffic to your front door?
Moz published it's 2018 Local Search Ranking Factor survey results and they are very interesting as local search continues to evolve and change. Let's take a look at the eight main factors affecting local search ranking (and what you can do to increase your odds of being captured in that marvelous map-inspired section of SERPs.
1. Google My Business Signals - 25.12%
Google My Business (GMB) signals comprise more than a quarter of the weighting factor that goes into determining if a business will be featured in Google Local Packs. This category is driven by factors such as:
Proximity.

If Google doesn't know where you are, you're way too far away to be featured in a Local Pack (even if the person who's searching for your type of business is standing right in front of your address). The whole point of Local Pack is to give searchers viable options that are

local.

If your company resides at some unknown address, you're losing major points in the proximity category.
Categories.

Who are you? What do you do or sell? These are very important questions that are often so obvious to small business owners, they forget to answer them on their websites. Google can't refer customers to your business if it doesn't know what your company does. Overlooking the essential ingredient to the characteristics that define your company will almost certainly negate your chances of making it into the Local Pack results.
Keyword in Business Title.

This one can be tricky because you're more than likely not going to change the name of your business to meet the need of the latest search algorithms. You might be able to rank better if your business name includes important keywords (think Sally's shoes or Tom's Denver Pet Food), but, fortunately, this is far from the only determining factor.
How to Fulfill This Search Factor
Ensure your business is listed, accurate, complete, and duplicate-free in local business directories. Verify your location(s) on Google Maps and Search, and make sure your hours are up to date, as well. If there are any blanks in Google My Business, fill them in.
Plant your own questions and answers on Google Q&A, feeding hyper-relevant, semantically rich content to the search engine.
2. Link Signals - 16.53%
Links have been an important part of Google's algorithms for years. With each major update, the search giant seems to change the emphasis it puts on links, forcing companies to integrate them more naturally—and with greater value—over time.
Link signals essentially tell Google what you're talking about (using anchor texts and the information it derives from the page it lands on) and how important the domain authority and quantity are. For example, sites like CNN and Forbes have high domain authority because the search engines assume people will trust those over sites like, say, your local high school's newspaper. The more authority you build into your own domain, the more respect you'll get on the SERPs.
How to Fulfill This Search Factor
Google posts were introduced to all small businesses in 2017 as a part of Google My Business. It is clearly time for everyone to start using Google Posts now. How often should you post to Google? You're off to a solid start if you're updating your Google Posts once a week, but to truly make an impact on the way the search engine sees your company's value, it's best to create new posts every few days.
Sample Google My Business Post: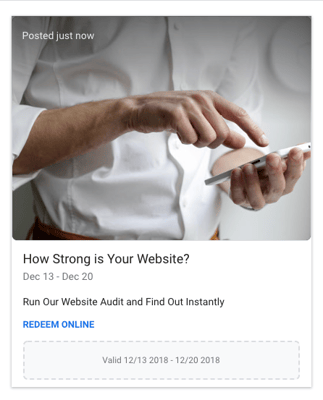 You can link to previously written content, relevant landing pages, and offers on your website, taking care to choose appropriate anchor words that help Google get the gist of what you're saying.
Be sure to use calls to action in your posts to drive direct conversions.
3. Review Signals - 15.44%
If you're discounting the importance of reviews, you're inflicting major harm on the way people—and the all-important search engines—see your business. Reviews aren't just for curmudgeonly customers who are dissatisfied with everything (although, that's certainly the sole way reviews were used not too long ago!)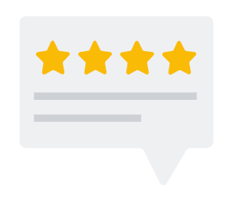 As the third most important ranking factor for local SEO listings, Google obviously really cares about your company's reputation with its consumers (even if it's not the same way your audience is using your reviews). The search site looks at things like:
Review Quantity.

How many reviews do you have overall? If you've been in business for ten years and only have three reviews, it's time to entice your loyal followers to throw you a bone via online review. If you've only been open for three months and already have 300 reviews, you might catch the attention of search engines.
Review Velocity.

How quickly is your business accruing reviews? If you're getting reviews too quickly, it'll look unnatural, which could cause you to get dinged. That's where the tough line of balancing your review needs comes into play. You need a lot of reviews to be reputable, but if you get them too quickly, they look unrealistic and could resemble reviews that have been unethically paid for.
Review Diversity.

Do you think you're awesome? Sure you do. Is every single customer that comes across your company going to think you're nothing but 100% five-star perfect? Probably not. Diverse reviews are more realistic and believable, which means if you've gotten a few low ticks, but you're still an overachiever, Google is more likely to smile upon you. It's also important to receive reviews across the web, rather than a single review site.
How to Fulfill This Search Factor
Focus on reviews. They're playing a larger and larger role in SEO importance each year. Ask every customer to give you feedback via online reviews. Facilitate the entry of keywords into your reviews by asking customers to mention the specific service or product they purchased in their review.
Also, respond to every review—positive or negative. Did you know Google now tells your reviewers when you respond to their feedback? This means your reputation-management regimen really needs to be on point.
4. On-Page Signals - 13.82%
Ironically, the presence of your pages' content actually doesn't come in until #4, but that doesn't mean you should discount the importance of the messages you put out into the world. On-page signals are things like your name, address, and phone number (also known as NAP, for short). It also includes keywords in titles and domain authority (see #2 above).
How to Fulfill This Search Factor
Leave no stone unturned when it comes to ensuring your business's contact information is complete on Google's product offerings. The content on each page needs to follow best practices, offering clear headers that make sense to the readers and an easily scannable format that your audience (and Google) can quickly review and digest.
5. Citation Signals - 10.82%
Citation signals are references to your business on other websites. You're more likely to be seen in good graces if your NAP is consistent across all citations. You don't have to have a full NAP listed to get credit; you could have, say, your business name and phone number found on another site and still reap some benefit. Ideally, the more information you have listed—and the more consistent it is across all citing sources—the more valuable your rank will be in the algorithm.
Citation volume is also a major player. The more you're cited, the more Google will turn its attention your way. Being featured in the Internet Yellow Pages (IYP) can also bode well for your business.
How to Fulfill This Search Factor
Find ways to get local sites to boast about your business so your brand can be featured on sources outside of your own web pages. These typically include local news sites, online community boards, and pages that are built for neighborhood blogs.
6. Behavioral Signals - 9.57%
Now we've entered into the science of SEO that's built to help you understand how to outrank your competitors. This is where all those all-too-common phrases come into the see-and-be-seen strategy. CTRs, mobile clicks-to-call, and check-ins are all pieces of information Google puts into your puzzle when it's determining whether or not you're worthy of being featured in Local Pack results.
How to Fulfill This Search Factor
Your website absolutely must be optimized for mobile use. This is not an option any longer. Your customers need to be able to easily navigate your site using any device and contact you without any unnecessary effort.
7. Personalization - 5.88%
Consumers' expectations are ever-increasing. We now live in a world where everybody's digitally connected at all times, and much of the major market doesn't know life any other way. As technology evolves, people demand messages be catered to them unlike ever before; otherwise, they'll just move onto the next guy who will surely take the time to create content that's founded in real-time data and results from deep dives into buyer behavior.
How to Fulfill This Search Factor
Embrace the power of big data as it relates to your customers' journeys. By employing the ability to target the demographic that's most likely to fulfill the demand side of your supply, you'll get more relevant attention. This also feeds into other factors we've already listed, such as increasing click-through-rates and building a solid foundation for an awesome online reputation.
8. Social Signals - 2.82%
It wouldn't be too surprising if social signals find their way higher up the ladder in the coming years, but for now, they're still an important part of the list, bringing up the top eighth most-important element in ranking high in local searches.
Social signals encompass everything that's shareable and followable on social media. Google pays attention to the way your audience interacts with your brand on Facebook, Twitter, and other social sites. The more followers and shares you have, the more valuable your content and product is likely to be—at least in the eyes of the algorithms.
How to Fulfill This Search Factor
Regularly upload photos and videos. Ongoing, fresh blogs are important, too, because they give people the information they're looking for in their own environment and helps establish your brand as an authority in your industry. Photos and videos, however, are where social sharing gold mines grow. Did you know you can now upload videos to Google My Business? Now that you know the importance of keeping your GMB looking its best with fresh content, why would you skip the chance to showcase some of your company's stuff by way of a method that's preferred by more than half of American internet users?
Successful search engine optimization embodies a combination of data science and carefully curated content. The effort isn't for the faint of heart, which is why you need a team of Googling gurus on your side when you're ready to expand your outreach to the people who are most likely to pay attention to business.
What kind of shape is your website in? If you're not sure, it's time to get your free Website Assessment from our team at The Diamond Group.