There are a number of reasons patients will start a search for a new dentist. They might have taken a new job and moved to a new city, or retired and moved away from their old dentist. Or maybe they are not just no longer happy with their current dentist.
Whatever the patients reason for leaving (and we've just touched on a few), the end result is the same for about 80% of patients - They will begin their search online at a search engine (like Google).
This is the reason that search engine optimization is so critical for dentists. Without a solid SEO plan in place, your practice will never be found when new patients begin their search. If you want to grow a practice, not having a solid SEO plan in place is a recipe for failure.
What if you need website traffic now?
Sure, you could invest your time, energy (and budget) into a solid SEO plan and attempt to make it to page one in Google search. You could write blogs, make videos, and optimize your website. These are long term marketing strategies that will pretty much guarantee success in the long run.
But what about the short run?
You want new patients now.
If you need immediate traffic, pay-per-click advertising (PPC) is the answer.
Facebook Ads for Dentists
For most dental practices, when we say PPC they will think Google Ads (formerly Adwords). And yes, Google Ads is a GIANT in the PPC industry. There are tremendous upsides to Google Advertising, but there is also a tremendous downside - $$$. Google Ads for dentists can be very expensive. With keyword clicks costing $15 and up for certain high value terms.
Facebook is different.
While the number of users on Facebook is now in the billions, its advertising can be better targeted and comes at a much lower cost than Google Ads. This is why Facebook ads for dentists have become an essential tool for a dental marketing agency
In 2020, Facebook has 1.62 BILLION daily users. Let that sink in for a moment.
74% of active Facebook users are on the site every day.
And the cherry on top - The average cost per click on Facebook for healthcare organizations is $1.32. This price point is why dental marketers are going crazy for Facebook Ads.
Dental marketing agencies like The Diamond Group know how to advertise strategically, in order to maximize your budget to fill new patient slots and keep you on budget. How does greater reach with a smaller budget sound?
Now that you know how powerful Facebook Ads for Dentists can really be, let's look at some best practices to maximize your Facebook ad budget.
1. Custom Target Your Facebook Dental Ads For Best Results
Facebook is legendary for their custom targeting options. If you have not used Facebook advertising before, prepare to be amazed - and possibly a bit overwhelmed. Everything from occupation to income brackets to family size is on the table for targeting on Facebook.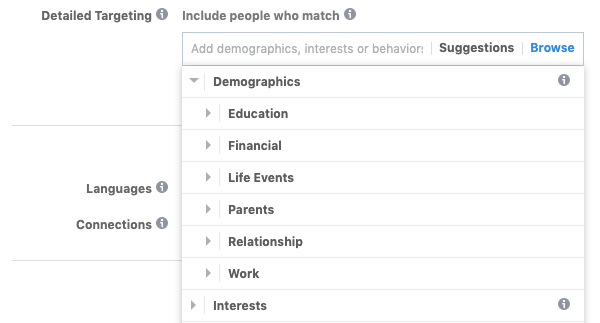 When trying to decide how to target your Facebook Ads think from your buyer persona backwards to your dental practice. Some questions to consider about your ideal patients:
What makes your patients get excited?
Who are they in a general sense?
Where do they work?
Where do they live?
Do they have families?
Try to line up these attributes with your practice by asking a few questions of yourself.
What does our ideal patient look like?
What do they drive?
How old are they?
Do they have insurance?
What mobile phones do they use?
Once you've answered these questions and many more, you'll have a better idea of how to custom target Facebook advertising for dentists.
2. Personalize your Facebook Advertising
The difference between personalized ad copy and generic non-targeted ad copy is the difference between success and failure. There's a reason great ad writers get paid big bucks - It's because they are worth it!
No worries if you don't pride yourself on working on Madison Avenue one day. With a little thought and some practice you can nail your ad copy.
The work we did in step #1 will really help here. Because great ad copy is all about understanding your buyer persona. Revisit the questions above and picture the ideal new patient in your mind. How would you talk to them if they were standing right in front of you? This is what your ad copy should sound like. It should be authentic to your dental practice voice, and resonate with your ideal patient.
Calling yourself the best dentist in your town is not going to cut it. Readers will skip right over your ad. What they won't skip over is Facebook ads that get their attention. Take a look at this ad for Williams and Daily in Raleigh, NC.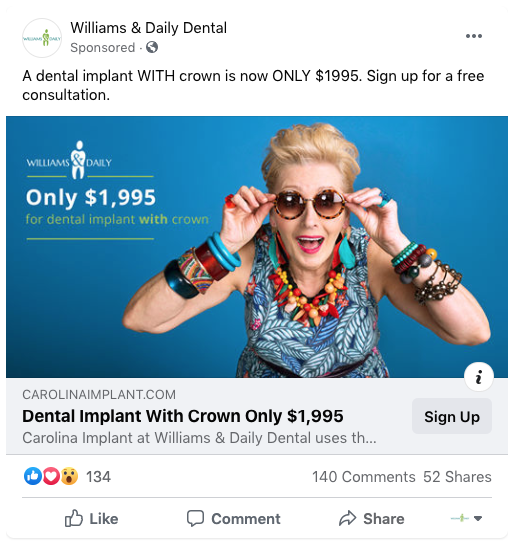 This ad drew a huge number of reactions, comments and shares. This is exactly what Facebook loves to see. They will reward you for the engaging content as well. The reward? A lower cost-per-click is given for engaging content vs non-engaging content.
3. A/B Test Facebook Ad Copy and Images
A/B Testing is a critical component to successful advertising. When you A/B test you are pitting one ad against another to see which gets better results. When you continuously A/B test, you are constantly upgrading your ads and optimizing your results.
To A/B test successfully you'll want to limit the number of changes in your test to one. Change an image or change the copy but don't change both in the same test. If you change up more than one item at a time, you won't be able to identify the one thing that changed and made an ad a winner.
We encourage you to test everything. Test images. Test ad copy. Test CTA's (calls-to-action). A/B testing is the best way to optimize your ad spend.
4. Add Video
Facebook Ads are not limited to still images. Add some video and drive up the engagement. Video is the single highest engaged content on the platform. If you are not including video in your ads you are missing out.
Video ads do not need to be highly polished productions (unless that's your brand) but they do need to relevant to your buyer persona and represent your brand accurately.
Dental offices with a highly polished and clean brand will want to steer clear of handheld DIY Facebook videos. These will do more damage to your brand than you can imagine. Invest the money and hire a professional video production crew to produce polished (yet relevant) facebook video for your office.
5. Show Off Your Dental Staff
In our digital word, it's so easy to forget that people buy from humans. So show off the faces of your staff and help build a connection from the new patient to your team. It's called Facebook for a reason, right?
When you show off your team, you can also show off their personalities. It makes the practice more human and more relatable.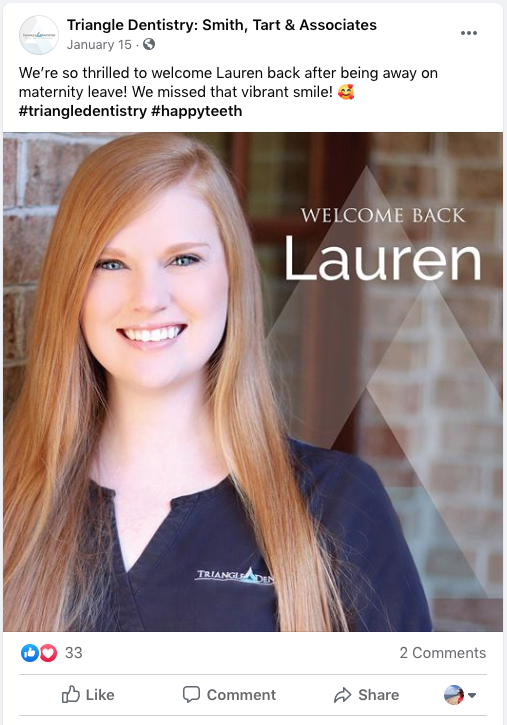 6. Target People Who Have Recently Moved
We mentioned targeting options with Facebook in tip number one. One of the most spectacular of those targeting options is marketing to new residents in your community. Is there a better targeted option for the dental industry than new residents? These individuals will naturally be looking for a new provider in their new home town. Create a campaign that welcomes them to your office and let them know that you are accepting new patients, just like them.
These new patients are going to be shopping online for a new practice and competition will be fierce. Create a new patient offer that gives them an incentive to call your practice first. A free consultation for a discount for new patients will usually do the trick. Once they connect with your team, is there any chance they will look anywhere else?
Get More Out of Facebook Ads for Dentists
Facebook ads should be a part of your dental marketing strategy. But Facebook Ads shouldn't be the only thing you focus on. It can be hard in a dental practice to have enough hours in the day to do it all. That's where a dental marketing agency comes in. An agency will have the resources and expertise in online marketing for dentists. They can cut through the chaos and deliver exception results quickly.
The Diamond Group has a long track record of success with dental practices. If you are looking for a true partner in your growth we'd love to connect with you.