If you're website is out of date, lacking in modern functionality or not built for mobile, you're probably trying to figure out how to choose a web design agency. The selection of the agency will play a major role in your future. They should be your partner in this journey, and bring their experience and successes to your organization.
Your new website will most likely be the first impression that prospects will have with you. Proper brand voice, and clearly defined buyer personas are critical to making the proper first impression. So it's a big decision you are about to make.
Where is the best place to begin the journey? In this article we offer tips to help you choose the best web design agency for you, and propose additional questions we suggest you ask potential web design agencies. If you follow these guidelines, you will greatly increase your chances of finding an excellent web design agency for you.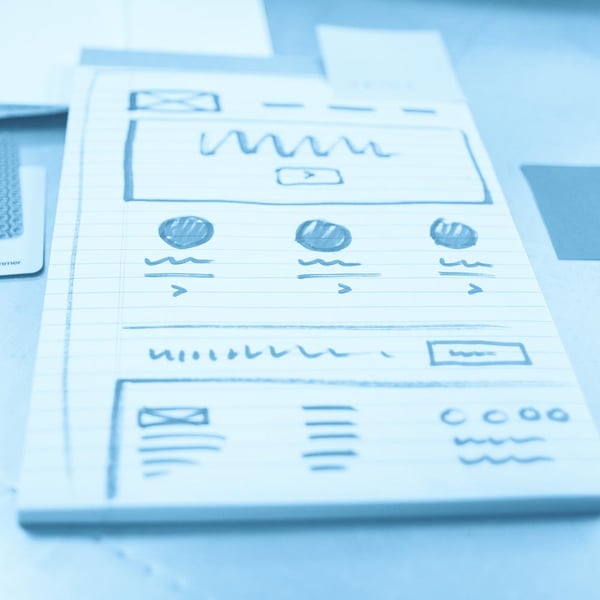 Make a List of Website Wants, Website Needs and Website Goals
Before you can begin the process of selecting a the perfect web design agency, you're going to have to get real about what you want your website to do. Think about your current site, what is it lacking? What do you wish it could do? What can your competitors website do that you think is awesome? What features must your website have to achieve your business goals? Your website is a sales and marketing tool, not a brochure. What do you want this tool to accomplish?
Examples of things you might want your new website to do:
Build awareness for your business
Generate prospects and leads for your business
Integrate with your existing CRM system (HubSpot, Salesforce, etc.)
Receive payments or donations
Allow users to fill out forms, submit information and download content
Live chat with company representatives
Contain a knowledge center where users can find answers to common questions
Comprehensive reporting and data on all marketing metrics
Track the ROI of your marketing investment
Allow purchases of products
Features your website might need to fill your website wants, needs, and goals:
Search engine optimized pages
Conversion rate optimized content
SSL website security protocol
Live chat engine
Secure forms
Built in CRM
Fast page load times
Content management system
A/B Testing
Personalized content
The company website serves many masters. It's the website that greets first time visitors and introduces them to your brand. The website must help you achieve your goals of converting these first time visitors into long time customers. It must also serve your long time customers and keep them as raving fans.
When you create your list of needs, wants, and wishes it will not only help you, but it will help the web design companies you interview make sure that the web site they eventually build is tailor made just for you.
There's a couple more pieces of information you'll want to work on before you reach out any agencies. What is your budget? What is your timeframe for completing the project?
While you might not know exactly what it costs to build the website of your dreams, you should have a good expectation of your budget for the project. Having a range (like between $20k and $35k) will ensure you get web design quotes that are within your range. It's ok to be upfront with agencies about your budget. This way they can tailor the quote to meet your needs. Without a budget guideline, agencies will tend to give you the ultimate web site design, but it could come with a much bigger price tag than you expect. Or worse, they might try to shoot for a lower budget, leaving many of the features you need for success off the table.
Being clear about your timeframe is also important. If you want your website live in 14 days, an agency will need to know that. It also might limit the project to agencies with immediate availability. If your website has a longer timeframe before launch, that can enable the agency to develop assets and content that will drive increased engagement and conversion.
2. Search Both Local and National Web Design Agencies
You've got your needs, wants, and wish list ready. You know your budget and your timeframe. It's time to start searching for web design agencies in your hometown and nationally. Widening the search will help if you are looking for experience within a particular industry like dental, healthcare, banking.
Software apps like Slack, and Zoom have made it easier than ever to collaborate and communicate with teams across the country. It's really not necessary to pick a web design firm near you. Look for culture fit, experience in your field, web design portfolios, and whether the agency has a system for growth.
Review Agency Culture, Experience and Fit
These three agency attributes are important to measure and align with your company. These three items can give you insights into how the web design company will design and manage your project, if the agency can meet your company website needs, and most importantly if the culture of the agency will be a good fit with the culture of your company.
Culture
We list agency culture first, because it can be make or break an agency/client relationship. That hip, skateboarding to work "modern" web design agency might not be the best fit if your company culture is more conservative. You'll want to make sure the agency culture is a match for your company culture. Little things like punctuality in your company culture may contrast in a big way with an agency that's more loose with its time.
Many companies that we work with haven't been exactly sure of the direction they want to take their brand, and they are looking for guidance. A good culture fit for these companies is an agency that values teaching, and collaboration for both team and client. Some agencies are happy to teach, and collaborate. Some like to go the mountaintop and return with their best advice. You'll want to know which type of agency they are.
Some tips and questions for investigation agency culture:
Take a look at their social profiles - Do you see thoughtful ideas and a helping attitude? Do you see knowledge? Do you see the companies culture?
About Us pages are ripe with info - Take a look at mission statements and team bios. What kind of talent and expertise does the agency offer?
Community - How do they show up in their community? Are they involved? Do they give back?
When you're talking with a future web design partner on the phone or on Zoom, take note of how they made you feel. Were you welcomed? Were you excited? Were they excited? Interested? Busy? Stressed?
There are no right or wrong answers, it only matters how the agency culture aligns with your culture and values. You are going to be spending a lot of time together once this relationship kicks off. Make sure your web design partner is a really good fit culturally and the website build will go a lot smoother.
Experience
Experience is one of the few tangibles you can look at in a web design agency. It's specific and measurable. Here are a couple of things to pay attention to:
How long have they been a web design agency? Are they a startup? Or are they established?
Does their portfolio have websites that you admire?
Have they developed websites in your industry or niche? Or something similar?
Do their websites get results? (Ask about SEO performance)
Do their websites have the features that you will need in your website?
Do they have a process for web design?
Is it a one man band agency? Or an established firm with a team to support the project?
The best agency partners will have processes in place that guide the design and development of the website. They also will have a master marketing strategy that goes beyond just the website build, and includes an overall marketing strategy. They will include this strategy into the website build itself.
Great agency partners will support you after your website is live with ongoing marketing services to help you grow. They'll have a team of marketing experts to help ensure your website meets and exceeds the goals, wants, and desires you spelled out in the beginning of this process.
The best agencies will also lean into technology and software solutions. They will be a partners with companies like HubSpot, Databox, and Google. Their solutions will offer you not just an affordable web site, but a website that is safe, secure and fast.
Read Reviews and Testimonials
Another great spot to look when searching for the best web design agency (for you) is at reviews and testimonials. Reviews are a good way to see how happy clients are with the work the agency has provided. Reviews will highlight customer service, and problem solving the agency might have undergone with a client, and it might mention agency team members by name.
While looking at reviews be sure to look out how an agency responds to a negative review. Are they gracious? Kind? Do they respond at all? It's easy to be positive when things have gone great, but when things go sideways (as they sometimes can), you'll want to know if the agency backs up its words with actions in supporting clients all the way through to the end.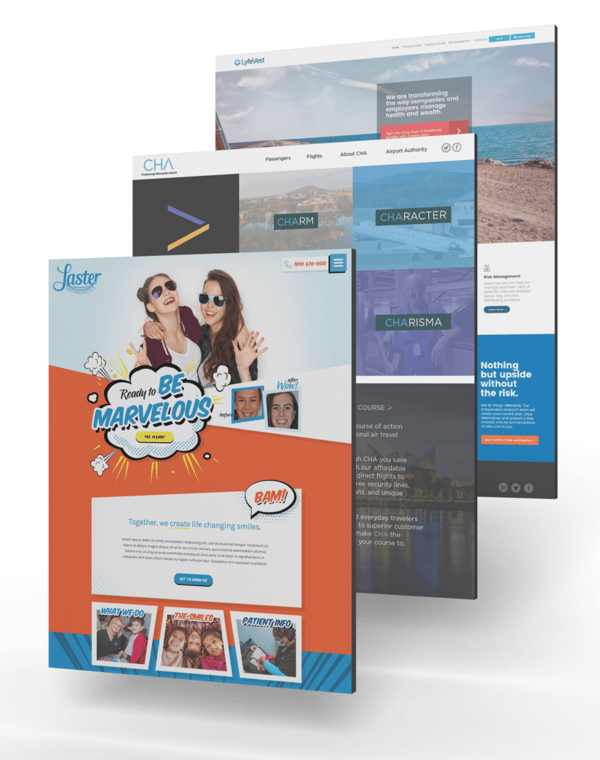 Ask These Questions to Find The Best Web Design Agency (For You)
If you follow our advice above, you will have really done your home work and probably have assembled a great list of prospective web design companies for your project. Now is the time to reach out and schedule a time to meet with them. You can meet by video conference, phone call or in person if they are local. Once you've gotten through our suggestions above (culture fit, experience, your wants/needs/goals), zero in on these five questions and pay close attention to the answers. These are make or break questions for choosing the best web design agency for your project.
1. What content management system do you use to build your websites?
A content management system (CMS) is the backbone of any website build. If you're not familiar with the term, that's ok - the web design company will know what it is. If you ask specifically about their CMS they will know that you have done your homework.
A website CMS is the platform that your website will be built on. A CMS makes it easier for non-technical people to update their website without coding knowledge. With a CMS you can login to the backend of your website and update images, change text, add a video, etc. all on your own without a coder. This gives you and the agency a lot of flexibility and saves a lot of time as you update and change the site down the line.
The most popular content management system in the world is Wordpress. Other popular CMS on the market are Squarespace, Wix and Joomla. Just because these are the most popular, doesn't make them the best choice.
Our favorite CMS at The Diamond Group is the HubSpot CMS. It is built for speed, and is safe and secure. The best part is that (unlike Wordpress) it never has to be updated. That feature alone will get you many hours of your life back.
2. What websites have you developed in my industry?
This question is particularly valuable for companies in the healthcare, dental, and legal industries because of the strict guidelines around content, product claims, security, HIPAA compliance, and ADA compliance.
When you ask about websites in your industry, ask the agency to provide examples of their work or links to websites they have built. As you look at these websites, just remember that the websites were designed with other companies values and brand in mind. So the colors, and messages might not be exactly your style. That's ok. Have the agency walk you through the designs and development process they used. The process is the most important lesson here.
3. Can I meet the team that will be work on my website?
Building websites is a team sport and any agency that won't let you meet the team that will be responsible for your design and development should be moved off your prospect list. Meeting the team can be done with video chat, or phone conference (it doesn't have to be in person).
When you meet the team, take a look around the room. Who is on the team? Is there a strategist? An account manager? A creative director? These are all critical roles in the web design process. For web design firms with a lower cost, a strategist is usually excluded. While this certainly saves money on the project for the client, it can also come at a much more expensive long term cost. The strategist is the one responsible for making sure the website gets results. A website build without a strategist, is a little bit like a ship operating without a compass. You might get lucky, but most likely the project is going to run into the rocks.
4. What Happens After My Website is Launched?
It might seem premature to think about the post-launch status of your relationship, but it's important. While many web designers will hand off the website to you and then move on to their next project, a web design agency will have a different approach.
A good agency knows that the website build is just the beginning of the project and not the end. After a website is launched some of the most important work begins. An agency will look at data, and analytics and will want to make changes for continuous improvement. Agencies will do A/B testing on copy and calls-to-action to ensure the very best results are being generated. Agencies will also perform conversion-rate optimization to ensure the highest ROI on the investment.
If you are interested in updating the website yourself and performing the data analysis, you'll want to ensure your web design partner will provide training after the website is complete.
5. Do You Provide SEO Services?
Search engine optimization (SEO) is a term that refers to the digital marketing practice of optimizing websites for search engines like Google. There are nearly a hundred SEO factors to consider for full optimization. During the website build these include site structure, content, image optimization, videos, meta tags, site speed, etc. Ranking on page one in Google is important for most businesses and you'll want to make sure any web design firm you retain is focused on that goal. Make sure you have a SEO strategy to outrank your competition.
SEO services are generally ongoing after the website is complete. These services include content marketing, an umbrella term for all of the different content you'll want to create on the site. This can include blogs, videos, FAQs, knowledge-centers, podcasts, etc.
You'll Find The Best Web Design Agency by Choosing Wisely
Designing and developing your website is a big job. It's one that will require careful consideration in the scope of the project and ultimately in the web design agency you select. This isn't a quick decision. Make sure to allow a considered timeline to vet the web agencies for this project.
A website is more than just a first impression for your prospects. It's also the main point of contact for current clients. Building, managing, and maintaining this most important asset is critical to the success of every business. Take the time, do the research, and find an awesome web design agency partner to help you hit it out of the park.