Whenever we launch a new website, we often get questions about dental SEO and how fast it will take for the website to rank in Google searches. Like most things in SEO, the answer depends. In this article we'll explain the most important factors that matter in getting your new website to show up in search, and a few tips to speed up the process. Perhaps we'll soon see you soon on our Top 20 list of dental websites.
7 Reasons Your Dental Website Hasn't Hit Google Just Yet
1. New domains take time to rank
Google has confirmed and it is an accepted fact throughout the SEO community that a brand new website with a new domain takes on average 3-6 months to rank. Google gives preference (and authority) to older websites with active domains. On the flip side, when you redesign a site on an older domain, Google will tend to "overcorrect" to all of the changes and you will often see a dip in the ratings. This is a good reason to use an expert dental marketing company, skilled in SEO, when making wholesale changes or rolling out a new site.
If there is at least one result, then Google knows about your website, but simply hasn't indexed the entire site yet.
You can quickly see what pages Google knows about your website by doing a site search. Use this code for searching your website: site:yourwebsite.com/page-you-are-looking-for

When searching for specific pages, you should only see one search result. If you see more than one listing, then you'll need to submit a sitemap through Google Search Console. (This is something you need to do anyway, so not really an extra step.)
2. You don't have optimized content
Unique, well written content is a requirement. Google is too smart, and the bots are too good at finding recycled, canned, boring, poorly written (or worse plagiarized) content.
At The Diamond Group, our dental copywriters know their way around a search engine. This means they will create authentic content, that fits your brand voice and style. Only the best content will win the search engine game.
Page one on Google is reserved for pages that are loved by users, and other websites. It's imperative that you build relevant, linkable content to boost your SEO presence. SEO optimized content will help users find your practice and keep the Google bots from sending you to the back pages of the internet.
3. You're blocking search engines from looking at your site
When you tell Google not to look at your website, generally it won't. Wait a minute you say, I would never tell Google not to index my site. Here's how you can find out.
Websites are blocked from Google when a "noindex" meta tag is inserted into the site. It's a piece of HTML code that looks like this: <meta name="robots" content="noindex"/>
Pages with this code will not be indexed.
Even if you create a sitemap in Google Search Console and ask Google to search, it still won't.
In WordPress it is easy to add a "noindex" to every page of your site.

You might be wondering - How could this happen? I don't even know how to do that.
True, you might not know - but the people that built your website do know. And it is very common to noindex a website while it's being built. It's also pretty easy to forget to uncheck that little box when the site goes live.
4. You don't have enough high-quality backlinks
Even when Google does find your website, one of the first metrics they will check is to see how many other "high-quality" sites are linking to your website. If the answer is zero, then Google will not be in a hurry to add you to their index.
The number of referring domains is a very important metric for Google. And SEO research has shown that the number of referring domains your website has, directly correlates to the number of keywords your website will rank for.
The Diamond Group uses proprietary tools to examine backlink profiles.

Using these tools we can see important metrics like:
The number of referring domains
The number of backlinks
The number of toxic backlinks
Your domain authority
Wondering about your competitors and their backlink profile? We've got a tool for that too.
We can compare your domain to any of your competitors and create a backlink gap report that identifies the gaps between your profiles. This report helps us target new backlinks for our clients.
5. You don't have "authority"
Authority plays a significant role in the rankings.
Page authority and website authority runs on a scale of 0-100. If you have a brand new website on a brand new domain you are starting at square 0.
We can check the authority of your website.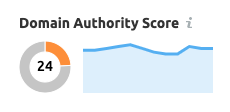 We can also monitor this rating over time and see how the site is progressing.
The best way to improve your domain authority is to get websites to link to your pages. Bonus points if you can get websites with high domain authority to link to your site. Of course these are the hardest links to get.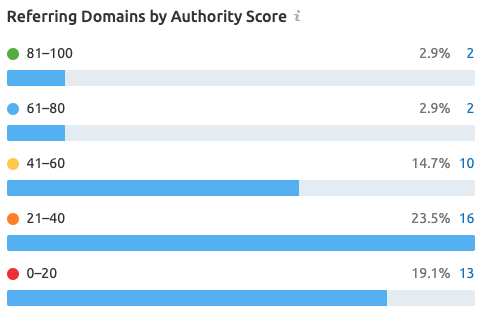 6. Duplicate content issues
Duplicate content happens when the same or a very similar web page is accessible at different URLs.
Google won't index duplicate content because it takes up unnecessary space in the index, and it creates a bad user experience.
Google will usually index the preferred page, so long as you set this page as the canonical or primary. If no canonical is set, Google attempts to find the primary page itself. As you can imagine, when Google tries to figure it out itself, the results are not perfect.
7. You have a Google penalty
This is not a common reason to not be indexed, but it can happen.
Manual penalties are extremely rare. You're likely to get one if you've done something extremely wrong. Google will usually alert you to penalties in Google Search Console.
Algorithmic penalties are harder to trace and more challenging to identify.
Final thoughts
Ranking in Google is a game.
If you have technical issues on your site, you're never going to win no matter how much effort you put in.
You must fix severe technical issues to have a chance.
From there, it's important to understand who you are up against. The strength of the others in the battle matters almost more than anything. If they are strong (great backlinks, high domain authority, deep content) and you are new (or weak).. You need to find a different battle to fight. Go down a level and work your way up.
Going down a level means finding easier keywords and search terms to rank for.
Watch your rankings vs your organic traffic.
Starting to rank but getting no traffic won't help much. Ranking and traffic need to work together.
Also be sure to monitor the leads coming in, and make sure they are qualified for your practice.
SEO is one component of a successful internet marketing strategy. Find more ways to help your dental office grow by downloading our Ultimate Guide to Dental Marketing.