The buying process has changed. Where sellers traditionally had the upper hand in transactions because of their deep knowledge of the product (you had to call a sales person to get info), buyers now rule. They can go online and find all the info they need on your product or service.
Marketing must still attract and convert these buyers but the handoff to sales is now less handoff and more two legged race. The reason is that typical buyers are not engaging with sales teams until two-thirds of the buyer's journey has been completed.
This shift in buyer behavior requires that sales and marketing now work together to create actionable, intelligent, and seamless handoffs. Marketing automation is a critical tool in getting these traditionally siloed teams working together.
If you have HubSpot, then marketing automation is easier than ever to implement. With HubSpot Pro, or HubSpot Enterprise marketers have the ability to create sequences and workflows to nurture buyers at every stage in their journey.
What Are Automated Workflows?
A workflow is a series of automated actions that you can trigger to occur based on a person's behaviors or contact information.
Workflows can be contact-based, company-based, deal-based, ticket-based, or quote-based. You choose actions for your workflow, which are functions that the workflow will execute for the enrolled contacts.
Contacts can be enrolled in a workflow based on any of the following criteria:
For contact based workflows:
Contact property, company property, or deal property
Website Activity
List membership
Form submission
Marketing email activity
Email subscription
Import
Page view
Event
Workflow status
Call-to-action
Adwords, Facebook, or LinkedIn ad property
For company-based, deal-based, ticket-based, or quote-based workflows:
Contact property, company property, or deal property
Activity properties
Ticket properties
How Sales Can Benefit from HubSpot Workflows
Have you ever had a sales qualified lead, or SQL, pop up from virtually nowhere? Well the SQL didn't appear magically, it was the power of inbound marketing and lead nurturing in action. Sales qualified leads start from prospects who are guided and nurtured by workflows. This is where implementing workflows in HubSpot can really pay off.
Going back to our analogy of the magically appearing SQL, think about how the lead changed from an MQL (marketing qualified lead), to SQL (sales qualified lead). Did they visit a certain number of pages? A specific "important" page? Did they download content? Or watch a video? These were just a few choices that could move an MQL to an SQL.
The truth is that SQL's don't magically appear from thin air, but they do magically become known. And this is how sales can benefit from HubSpot workflows. What made this lead magically appear wasn't magic at all, it was lead scoring. Lead scoring (and how to do it) is a subject for a future blog, but for now let's assume you know the criteria in your funnel that differentiates the two.
HUBSPOT WILL IDENTIFY HOT PROSPECTS READY TO CLOSE
Leveraging HubSpot workflows, we can craft an enrollment trigger that meets any of the enrollment criteria we just outlined including:
Page visits
Important page visit
Content view
And so much more
We'll start with a contact-based workflow:

Step 1: We will set our enrollment criteria. For this example, we've set three criteria to be enrolled:
They need to have visited an important page on our website.
They need to not be in a lifecycle stage that is NOT a current customer, evangelist, or simply a subscriber.
Their lead status must NOT be unqualified. We've singled out leads without a budget, leads who don't fit, and even other vendors that might be in our list.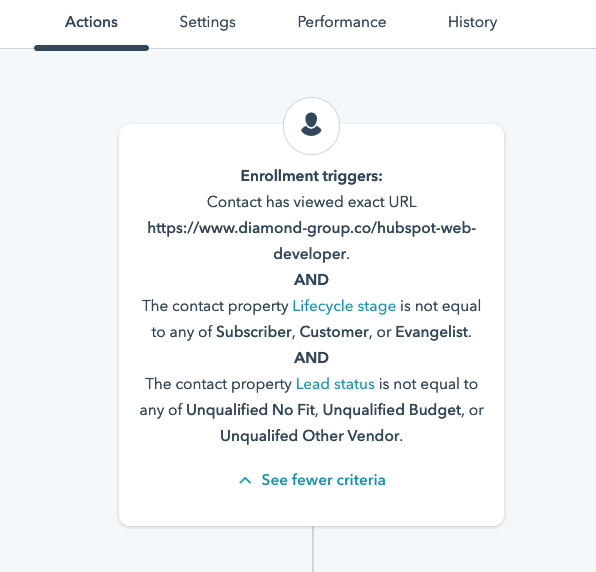 Ok, so now we have a high quality lead who is looking at one of the most important pages on our web site.
If you're in sales, this is information you would absolutely want to know.
This is where the beauty of automated workflows in HubSpot really shines.
Step 2: Add an if/then building block to the workflow.
For our example we want to send a message to the sales rep that their high quality lead is looking at one of the most important pages on their website right now. With just one click, a sales rep can reach out to the prospect at the exact moment he is engaged with the most important website content. In HubSpot we can send SMS (text) messages and send in-app notifications.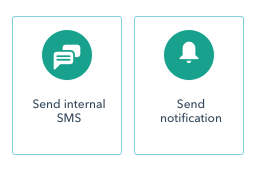 It's important to know that these notifications can also be sent to a sales manager or really anyone that could use this insight into the sales funnel.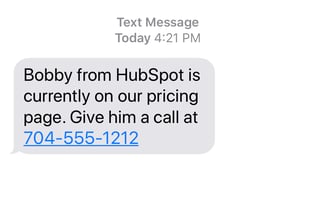 At this point, your sales team can have a conversation with your buyer at their exact stage in the buyer's journey. For example, if they are on the pricing page, then that's a pretty good time to talk about pricing! This is why when it comes to workflows, it is important to identify the website pages on your site that are critical in the buyer's journey.
This is just one cool use for automated workflows to help your sales team close more deals. Some of the others include:
External notifications (Slack, email, webhooks)
Assigning a contact to a particular person or team
Creating a deal, ticket, or task
Adding to and removing from a static list
Salesforce set a task/campaign
HubSpot makes marketing automation and workflow development easy to implement, but you do have to do your homework on the front end.
If you are using workflows for sales we'd love to hear more about it. Tell us your story in the comments section below.