If you're a dentist who is looking for ways to grow your practice, Facebook Ads may be the perfect solution for you. These ads are incredibly effective at reaching new patients, thanks to the power of hyper-targeting. You can target audiences according to their demographics, behaviors, and interests, making it easy to connect with potential patients who are likely to be interested in dental care.
Facebook also is an easy way to test verbiage options in your ad campaigns without the upfront expense of other ad types (like direct mail ads).
For context, here are the average cost-per-click for each of the four major social media platforms in 2021 (according to Wordstream).
Twitter: $0.38
Facebook: $0.97
Instagram: $3.56
LinkedIn: $5.26
Facebook ads allow for A/B testing, multiple ad campaigns running simultaneously, and continuous optimization and improvement.

Dental Ads: Metrics of Success
Facebook ads are versatile, and to optimize for success you need to clearly define want your dental ads to achieve.
When boosting a post, or creating a Facebook Ad campaign, Facebook ads can:
Increase awareness of your dental practice
Drive traffic to your dental website, blog posts, social media pages etc.
Promote engagement on Facebook and other social networks
Encourage customers to use a messenger bot for dental appointment scheduling or dental services information requests
Reach existing patients and perspective patients on a regular basis to increase brand awareness
Bring Facebook visitors to a landing page on your website
Depending on your ad and your target audience, dental ads can be broad-based objectives (I want more Moms to know about my practice) to hyper-targeted (I want more Moms with elementary aged children within 10 miles of my practice to be able to use a discount code for Invisalign services).
When setting up a Facebook Ad campaign, it's important to set up dental ads according to your dental marketing strategy.
Before you run your first ad set the advertising goal, and then follow that goal throughout the dental ad campaign to see how it performs.
Here are the metrics of success for great dental ads:
Total impressions: The number of people who saw your ad at least once
Reach: The percentage of people who saw your dental ad at least once
Clicks: The number of clicks on your dental ad (including link clicks, video plays, and call-to-action button clicks)
Cost per click (CPC): How much you're spending for each click on your dental ad
Conversion rate: The percentage of people who took the action you wanted them to take after seeing your dental ad
ROI (return on investment): The amount of revenue generated by your dental ads divided by how much you spent on those ads.
These six metrics are a great way to monitor advertising success.
Facebook ad pricing will vary based on these metrics and other factors including seasonality, and campaign objectives.
How to Setup Facebook Ads for Dental Practices
1. Go to Facebook Ads Manager
To access Facebook Ads Manager, login to your Facebook Business Page.
If you want to run Facebook Ads, get used to Ads Manager because you'll be spending a lot of time here. This is the tool you'll use to create, run, manage and report on all of your ad campaigns.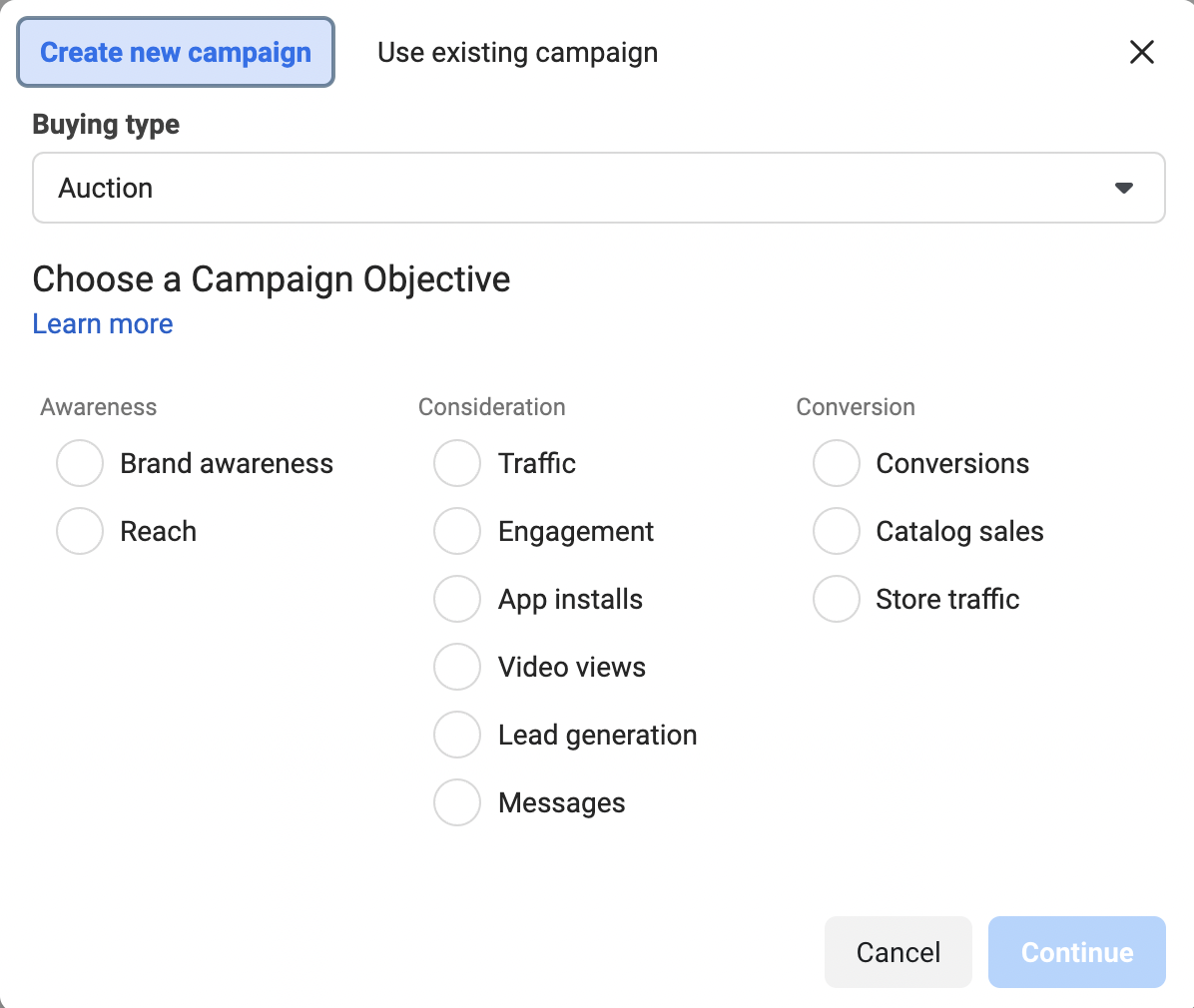 2. Choose Your Marketing Objective
After clicking on the 'create an ad' CTA you'll be asked to decide on your campaign's objective.
There are three options: Awareness, Consideration, and Decision. These are the three stages in the buyers journey, and Facebook would like to know which part of the journey you are trying to reach buyers in.
Awareness Campaigns
Awareness campaigns are at the top of the buyers journey.
These dental advertising campaigns are for generating interest in your practice, and becoming more visible in prospective patients feeds.
Awareness campaigns are designed to introduce your practice to to new patients nearby.
For smaller, single office dental practices, awareness facebook campaigns are likely your best bet.
Consideration Campaigns
Consideration is in the middle of the journey. Your audience knows about your brand and might already have an interest in the practice.
The consideration phase is the spot to educate prospective patients on what makes your practice the best. Crooked teeth before and after shots, or a dental makeover highlight are all good campaigns in this phase.
Decision Campaigns
The decision phase is at the bottom of the buyers journey, and dental practices are trying to get patients to take an action such as scheduling a consultation or buying dental services.
This might be a time where you offer a discount for dental services, or free whitening for those who schedule a consultation.
To recap:
Use the awareness phase for branding and becoming more visible to people in your area.
Us the consideration phase to educate your audience on what you offer
Use the decision phase to get patients into the dental practice such as scheduling a consultation or a dental procedure.
After you select the campaign objective, name your campaign, and either setup your ad account (if this is your 1st campaign) or continue on.
3. Select Your Target Market
Knowing your audience is critical to the success of your Facebook ad campaign. So who do you want to reach?
If you are a dental practice in a smaller town, this is pretty easy. If you're located in Atlanta or Miami it will be more difficult, so we'll cover both options below.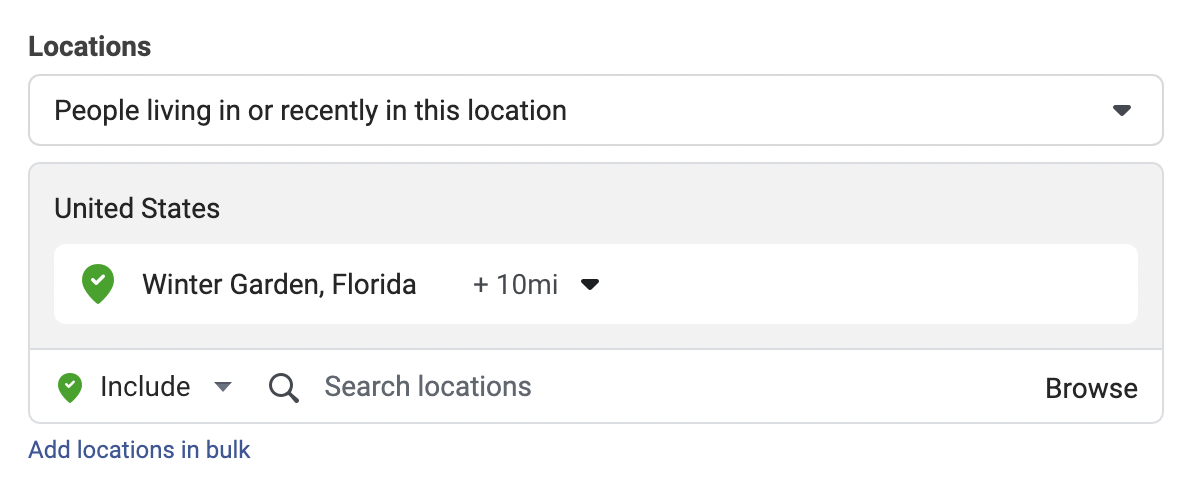 Targeting by Location
Location targeting can be as specific as an area around the dental practice itself, but often times dental practices will want to expand their reach.
The dental practice may be in Nashville, but they want to target people who live in a suburb outside the city. This is an easy option to choose when you're creating your dental ad campaign. Just select the zip code(s) or cities you wish to target and pick a radius.
Targeting by Demographics (Age, Gender...)
You can narrow down dental ad campaigns further using demographics such as age, gender, relationship status, education level, job title and more.
Interests
When you target someone by their interests, you're targeting people based on what they've liked, shared and engaged with on Facebook. So if someone is interested in 'health and wellness' or 'health and beauty', they can be targeted with dental ads. Unlike Google Ads, you are targeting real human interests, not keywords.
Interest based marketing is powerful, and new patients are easier to find than anything possible in print ads.
Behaviors
You can also target people based on behaviors, including purchasing behavior, income, children's age, and what device they are using.
Connections
Do you want to run ads targeted at people already connected to your Facebook page? Or their friends? Or even exclude anyone who already likes your page?
The connections settings are robust, and are a great way to either expand or limit your ad reach.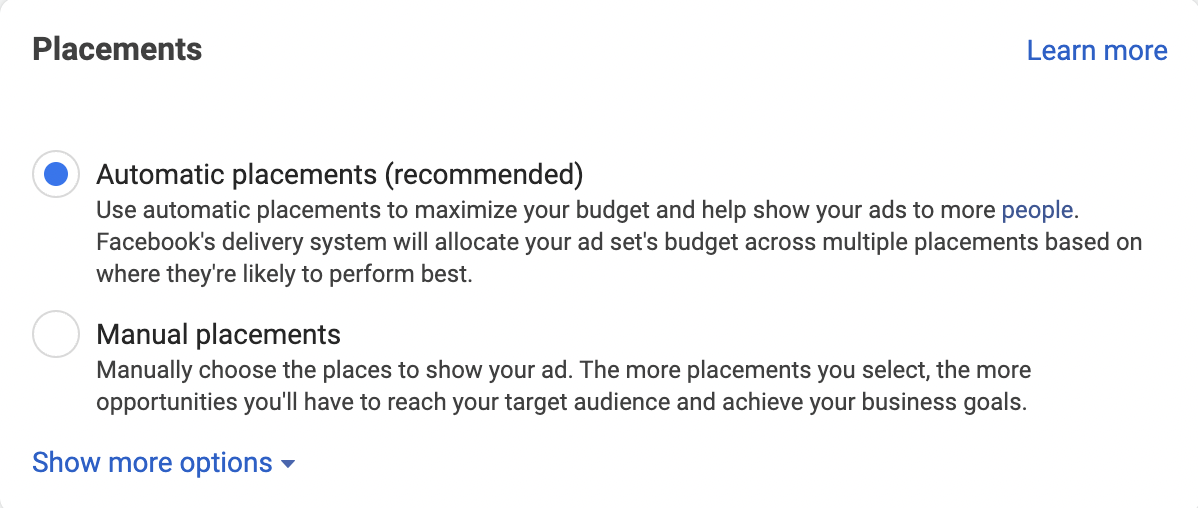 4. Choose Your Ad Placements
Ad placements allow you to select where your dental advertising will appear on the social media platform.
Automatic placements is recommended by Facebook, and its generally the best setting. It can be tempting to want to choose your placements, but you have to trust the algorithms to get you the best price and maximize the opportunity for success.
5. Pick a Budget
How long do you want the ad to run, and how much do you want to spend?
Facebook will give some guidance on expected clicks and conversions based on your budget.
You can select a 'daily' budget or a lifetime 'budget'.
Daily budgets are measured per day, and lifetime budgets are measured to the campaign end date.
Both budget options are changeable at any time.
6. Create Your Facebook Ad
Creating your online ads gets us out of the technical side of our brains, and into the creative.
You can use an existing post and boost it, or you can create an ad campaign.
Boosting posts is often the simplest way to get started, but might not generate the best results. You'll have to start with the goal in mind and see if the post moves you closer to your goal. a goal to generate interest that grabs attention will have different ad copy than a goal to get appointments to fill empty seats in your dental clinic.
A successful dental practice running Facebook Ads will have a mix of ad types and goals. Remember dental advertising on Facebook will be seen by a majority on mobile devices. So make sure to capture your audience's attention before they scroll by.
More and more dentists are turning to videos for Facebook ad campaigns. 60% of marketers in a Databox survey said that video tends to drive more engagement.
So what dental advertising works on Facebook?
Dental education videos (do's and don'ts)
Dental care tutorials
Dental emergencies and solutions
Dental practice information
Photos of your dental practice
Dental services and benefits
Dental staff profiles
Dental practice information (including hours, location, etc.)
Dental patient testimonials
Facebook Ads for Dentists
As you can see, Facebook Ads provide a wealth of targeting options for dental practices looking to grow their business. The ability to target by interests, behaviors, and connections makes it easier than ever to find new patients who are a good match for your dental practice. And with so many ad placements available, you're sure to find the perfect spot for your ad campaign.
Facebook Ads is also a cost-effective way to reach potential patients; with prices that are lower than Google Ads, it's an opportunity you don't want to miss. Dental practices should consider creating video ads as they are more engaging than other types of ads. By following these simple steps, you'll be on your way to reaching more potential dental patients.