First off, hats off to you. Somehow you managed to sift and sort your way through the 7,040 marketing technology options to the absolute best: HubSpot.
HubSpot was founded by Brian Halligan and Dharmesh Shah at the Massachusetts Institute of Technology (MIT) in 2006. The birth of HubSpot started a marketing technology revolution. In 2019 there are 7,000+ marketing technology companies vying for your business. Take a look at this graphic and see them all.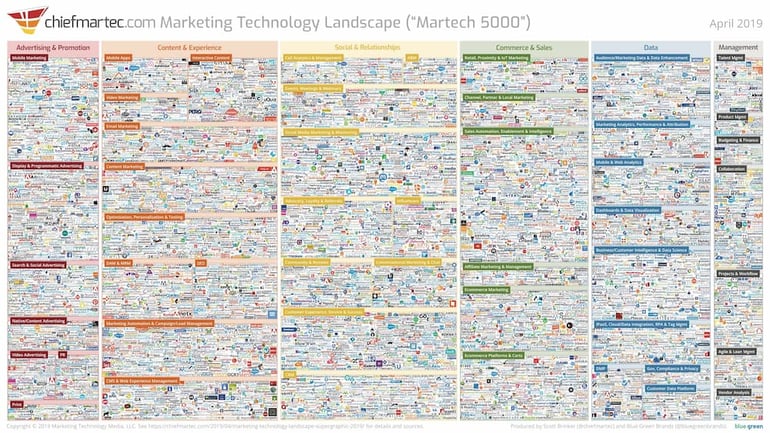 HubSpot is The Best Marketing (Sales and Service) Platform
HubSpot, from the beginning has sought to write its own playbook. They single handedly brought inbound marketing to the mainstream conscience. The concept of attracting buyers to brands through great content and not through interruptive advertising was revolutionary in its day. Now it's standard operating procedure for brands everywhere, large and small.
While they started with marketing, over the last decade HubSpot has expanded it's offerings into Sales and Service.
HubSpot now offers an all-on-one platform. With HubSpot, all of your customer facing software (and data) can reside in one place. This saves time, saves money, and allows for better decision making. The old way of sales, service and marketing operating in silos is over.
You've decided to buy HubSpot, now what?
You have three big decisions to make:
Deciding what HubSpot package to buy (sales, service, and/or marketing)
Deciding where to buy HubSpot (direct or through an agency partner)
Choosing an onboarding partner (direct or through an agency partner)
What HubSpot Package Should You Buy?
HubSpot offers three channels: Sales, Service, and Marketing. You can purchase them separately or together in a bundle called the Growth Suite. HubSpot offers a discount for Growth Suite purchases of 25% off the regular price of each service if purchased separately.
Within each channel there are four price-points: Free, Starter, Professional, and Enterprise.
HubSpot Free: This is a great starting point for someone wanting to learn a little bit more about HubSpot before spending any $$$. HubSpot Free gets you access to the CRM, forms, pop-up forms, email marketing, live chat, the conversations inbox, ticketing and much more. The tools are limited (it is free after all) but it's a good place to start your HubSpot journey.
HubSpot Starter: With HubSpot Starter you start to see more tools become available and more robust versions of the free tools. Email sequences, forms, email scheduling and list segmentation are just a few of the upgrades you receive at the starter level. HubSpot Starter is a great option for small businesses/DIY marketers with limited resources to invest.
HubSpot Professional: With HubSpot Professional you are getting serious tools for your customer facing teams. At this level you unlock marketing automation, smart content, blog and seo and content strategy tools, social media publishing, A/B testing, landing pages, calls-to-action, video hosting, and a lot more. HubSpot Professional is the perfect choice for small to mid size businesses.
Enterprise: HubSpot Enterprise is just what you'd expect it to be. The mack daddy of tools for your customer facing teams. Pretty much anything you could ever think about wanting is in this edition of HubSpot including content partitioning, single sign-on, additional domains, CMS membership, filtered analytics and a lot more. HubSpot Enterprise is a must have for large organizations.
CMS: HubSpot CMS is a fast, secure, and safe spot to build your website. Your website is the foundation of every digital experience. When you build your website on the HubSpot CMS you can tap into the CRM and build a truly personal website experience. With it's multi-faceted security setup you also never have to worry about a data breach.
Where Should You Buy HubSpot?
This seems like a straight forward question, of course you buy it from HubSpot, right? It depends.
When to Buy HubSpot Direct
You'll want to buy HubSpot direct when you want to work directly with HubSpot on getting your account setup.
HubSpot charges an onboarding fee to help you get on the platform which varies based on the software subscription you've purchased. This onboarding process is meant to help you get on the platform but isn't the same as working with a HubSpot partner.
When to Buy HubSpot Through an Agency Partner
HubSpot agency partners are generally the best way to purchase HubSpot.
Because of their experience with the platform HubSpot partner agencies can guide you to purchasing the right software for your needs. They can help you decide if the starter package is the way to go, or if you'll need something more robust to execute on your wish list.
Partners also have the advantage of having a long term relationship with HubSpot. Partners will be in the know on any promotions or opportunities and could possibly secure you a lower price.
HubSpot is a wonderful platform, but it doesn't manage itself. When you purchase HubSpot through an agency partner, you also get access to onboarding services from that agency. Onboarding with an agency that works with HubSpot everyday will make sure the platform is set up for your long-term success.
Want to talk HubSpot with an Expert?
The Diamond Group is a Gold HubSpot Agency Partner. To be a Gold HubSpot partner we have had to prove our proficiency in both selling and servicing clients on HubSpot.
If you have more questions about HubSpot and purchasing the platform, please reach out to us.