The Millennial. What do you think of this generation? For some it might be entitled or spoiled. To others the perception may be liberal or upbeat. While the characteristics of such a wide spanning age group are difficult to pin down, there is no doubt that as the largest generation in history they are undeniably shaping the future of business and marketing.
Known as digital natives, there are over 80 million Millennials in the U.S. alone, and currently represent 34% of the American workforce. Worldwide, they have a combined purchasing power of over $10 trillion. Faced with numbers like these it is easy to understand why many companies are now seeking alternative marketing solutions. If a business is interested in surviving long term it is going to have to appeal to the Millennial generation sooner rather than later. And the Generation Z to soon follow.
This fact has thrown the marketing world a curve ball as it races to find new marketing solutions that better engage this audience. While people haven't stopped making purchases, their processes for buying have changed, leaving many companies scratching their heads.
Millennial perceptions have become reality
Coming of age in a world that has been dominated by technology, globalization and cultural diversity, Millennials' perceptions of the world are different from previous generations. Social and cultural borders have been redefined, along with the way we communicate. Unlike their parents' generation, Millennials are driven by the pursuit of happiness, passion, diversity and discovery. They are interested in moments that bring fulfillment, and not necessarily achieving long-term security. To this point, in a recent study Millennials cited family, not money as the top indicator of success.
This means that the way Millennials find, consume and act on information - especially targeted advertising – has changed. Millennials are constantly sifting through the copious amount of data they are bombarded with daily, and have become experts in filtering. Their attention is notoriously difficult to capture, particularly on social media. Instead of trusting a brand or advertisement, they trust their network, friends, and families.
Understanding the Millennial buyer's journey
Traditional marketing, or outbound marketing, places emphasis on disruption rather than engagement. The problem is that Millennials are no longer responding to traditional advertising. Instead, Millennials engage with advertising that is experiential or inbound, and utilizes perceptions, images, experiences, beliefs and attitudes to create a brand experience. As a recent research project discovered:
"Experience unique, fleeting and personal is the millennials' ultimate bespoke status symbol."
Millennials are searching for authentic experiences that increase the value of what they are already doing. They want marketing that is on their terms, through their channels. This desire for experience, combined with the ability to document, upload and share exponentially increases the value of these moments, and opens an opportunity for companies willing to get creative and explore inbound marketing.
Embracing the future of marketing that is "Millennial Marketing"
A great example of a company taking this head on is Taco Bell. During the 2014 launch of its new breakfast menu, they adopted a different marketing approach. After listening to their audience, Taco Bell developed an experiential strategy that would hit right to their ideal buyer persona, a Millennial. They distributed 1,000 burner phones to social media influencers across the U.S. giving these customers a direct line to the Taco Bell headquarters, and doled out secret missions to accomplish and document through Instagram and Twitter. Each mission accomplished was rewarded with a prize, from Waffle Taco pajamas to free tacos for life!
This innovative and engaging tactic proved immediately successful, and Taco Bell received over 16,000 tweets in just 10 days through the hashtag #WakeUpLiveMas.
Not only did Taco Bell create fun experiences for Millennials to discover on their social media networks, they also created a product, the Waffle Taco, which was uniquely suited to broad use on Instagram. This quickly gave Taco Bell exposure to thousands of more accounts as its brand trust increased with every individual's food-gram. So along with 1,000 people Instagramming secret taco missions, you have their friend's networks, plus their friend's, friend's networks, all Instagramming their own Waffle Tacos purchased from Taco Bell.
In a matter of days after the launch #WaffleTaco was trending on Twitter and Instagram with thousands of posts.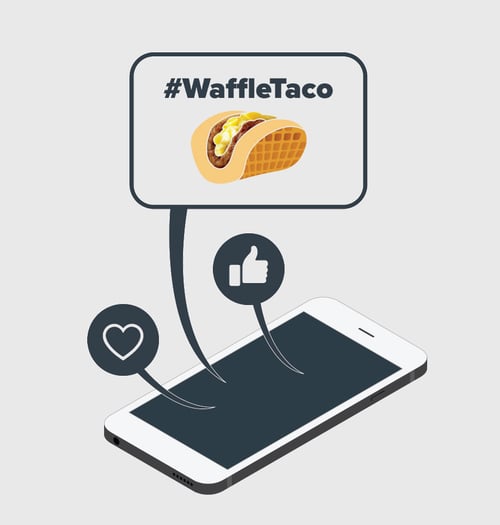 Taco Bell's campaign was a hit because it met Millennials on their turf – social media, engaged with them through their existing friend networks, and created a product easily shareable on those networks. This created brand trust, while the secret mission experiences were exciting, and the Waffle Taco Instagramming was universally engaging. It channelled two great emotions: that fun-loving desire to be part of a secret mission, and the need to Instagram anything that might get over 50 likes.
By listening to their buyer persona, and committing to a dynamic campaign concept, Taco Bell succeeded in winning over Millennials trust and interest.
As Millennials are set to take over 75% of the workforce by 2030 businesses have no choice but to adapt and embrace the Millennial buyer going forward if they are going to remain competitive in the marketplace. As we discover more about the unique Millennial buyer's journey it is becoming increasingly important to integrate inbound marketing with outbound marketing in order to reach the intended target, a target audience that is growing exponentially and very soon, will not be unique, but will become the norm.