In this day of technology-driven work, we oftentimes as owners of our brand forget that it is actually the more personal aspects of how we deliver our services that make or break the experiences from our client or patient experience. Back to basics is sometimes the most powerful shift we can have within our brand, our practices. We work with specialty dental and medical practices every day to help them craft an unforgettable experience for their patients.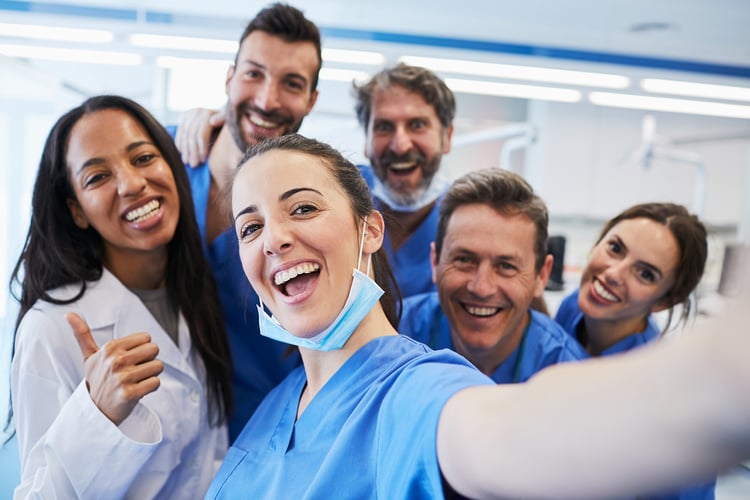 How Do We Craft an Unforgettable Patient Experience?
Personality counts - building a great internal team culture is critical to crafting a winning patient experience. Humanizing the office means small touches - noticing when someone is having a bad day and taking a moment to encourage them, sharing a personal experience about your own family, opening up your patients to talk about themselves for just a few minutes and laugh about something inconsequential seems so small and yet these are the tiny "glue" moments that hold your practice together. Many times as the dentist yourself you may have your mind on other things so training your staff to slow down and pay attention and bring their personalities to the table can be critical. Practice managers are famous for this as well - so busy paying attention to the details of the practice that slowing down to personally connect to the team or to their patients gets lost in the shuffle. Is your team showing off their winning personalities and engaging your patient base?
Customize the experience - birthdays, anniversaries, milestone moments - all these things are ways to recognize and customize the experience for your patients. Is there a small welcome board you could have on the counter at the reception desk or in the treatment room that shows your patient you were positively anticipating their visit that day? After all, Starbucks completely disrupted the coffee industry by charging 4 times the money for a cup of coffee and one of the biggest differences they made was to write their customer's name on the cup. Are there small tweaks in your office experience you can make to customize the visit for your patients?
Consistency counts - make sure that the experience of working with you and your team is seamless and smooth. Craft and design the check in experience, the welcome, even the walk back into your treatment rooms. Leave nothing to chance and chaos - be conscious about every step and then train your team to consistently deliver that experience. It gives people a sense of comfort when the office is calm and orderly and there is no confusion in the details. Are there any inconsistencies in your patient experience right now that you could improve upon?
Incorporate your patients' feedback - the quote, "Feedback is the breakfast of champions" works overtime here. Your patients know first hand how to make things better. Be humble and gracious, working regularly points of gathering feedback into your processes. Striving as a team culture for continuous improvement means that there is no stone left unturned - we openly and regularly seek that out so we can change things that need to be changed, using our patients' up close and personal experiences as the springboard for this improvement. Are you asking for feedback every day now or can you improve this area?
Taking some time to revisit these essential elements of your patient and brand experience will pay for itself in spades - making each touch point and visit unforgettable means that word of mouth referrals, retention, and reviews are an organic, positive outcropping of your practice.
The Diamond Group can help you get to the finish line.
The Diamond Group is a strategic growth marketing agency that offers small businesses a proprietary system to create double-digit growth using inbound, content, and digital marketing, website development, and sales enablement tools. Let's grow better together and have a conversation.